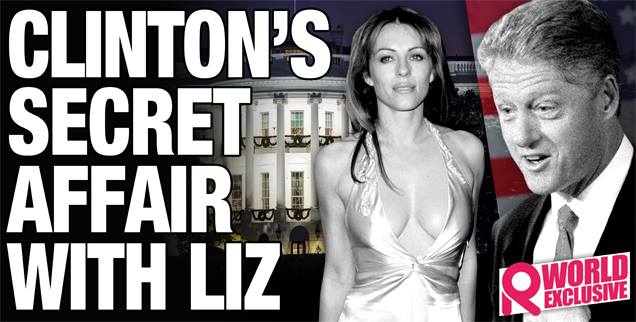 UPDATE:
"Some low types in Hollywood," says Dylan Howard.
"He's just admitted he trashed his ex and made it all up!"
LINK: Tom Sizemore's Shame As He Makes Groveling Apology To Ex-Lover Elizabeth Hurley Over 'Made-Up' Bill Clinton Affair Claim: 'They Were The Rantings Of A Drug Addicted Actor' ==> bit.ly/1b3otgX
………….
EARLIER REPORT:
Geelong's Dylan Howard has caught former US president Bill Clinton and actress Liz Hurley with their pants down in a bombshell  exclusive reported on his giant RadarOnline.com celebrity media website.
The multi award-winning journalist, hunted from Australia after busting open drug use in the AFL, says his world exclusive  story about the pair's torrid affair could railroad Hilary Clinton's 2016 presidential campaign.
Howard reports that the philandering ex-president Clinton, infamous for his affair with White House intern Monica Lewinsky, carried on a year-long affair with Hurley behind the White House walls.
The explosive revelation was dropped by the man who says he arranged the secret tryst, actor Tom Sizemore, says Howard.
"Radar has unearthed a secret audio recording during which the Hollywood actor, who had his own three-year sexual liaison with Hurley, recounts how the famously-frisky ex-president once sent a plane to fly Hurley to Washington DC, where he bedded her in the White House — while First Lady Hillary was in the very next room!" RadarOnline reports.
"On the tape, recorded in January of this year and provided to Radar and GLOBE in a joint investigation, 52-year-old Sizemore boasts to two pals about how he arranged the pair's first rendezvous."
Hurley has been in a high-profile on-again, off-again relationship with Australian cricket legend Shane Warne in recent years.
She rejected the story out of hand.
"Ludicrously silly stories about me & Bill Clinton," Hurley posted to twitter this morning.
"Totally untrue. In the hands of my lawyers. Yawn."
She thanked her supporters.
"Thank you very much for your (mostly) very nice comments on what has been a pretty gruesome day x."
Howard, widely regarded as the biggest story-breaker in the US, has a string of awards to his name, including the LA Press Club's investigative journalist of the year,
Howard scooped the world with Charlie Sheen and his urine samples or Justin Beiber's scraps with paparazzi, he's no stranger to the limelight.
He's appeared on national news and entertainment programs across America and the UK and had work published everywhere from Woman's Day to OK!
As senior executive editor of RadarOnline _  the largest celebrity publisher in the United States _ he presides over one of the biggest celebrity gossip media outlets in the US. His website draws tens of millions of visitors each month, outstripping even the biggest newsstand entertainment magazines.
See the full story at http://is.gd/vk3QPI