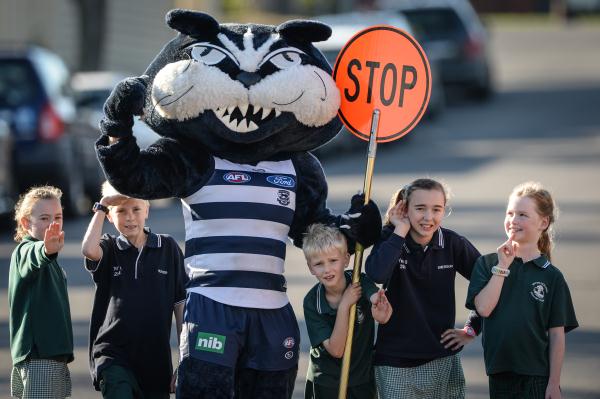 STOP, look, listen and think. This road safety advice could earn two local youngsters the chance to lead the Cats onto Simonds Stadium before next weekend's clash with St Kilda.
The Transport Accident Commission has teamed up with Geelong's council and the Cats to offer the once-in-a-lifetime opportunity, rewarding safe school-crossing behaviour.
The region's crossing supervisors and teachers will be looking out for kids aged six to 12 setting good safety examples at crossings.
Two of the nominated students will become Cats mascots for the round-13 match and help skipper Joel Selwood lead out the team.
The competition follows the TAC awarding City of Greater Geelong a $25,000 Community Safety Grant to install brightly-coloured warnings outside 90 schools, urging students to 'Stop, Look, Listen, Think'.
TAC chief Janet Dore said the warnings spread an important safety message.
"It's all about encouraging kids to stop and find a safe place to cross, look for traffic, listen for instructions from adults and think about whether it's safe to cross," Ms Dore said.
"We know local kids love the Cats and we hope they'll put their best foot forward in putting safety first."
Readers wanting to nominate a primary student should email their own name, the child's name, school and reason for the nomination to rmorphett@geelongcity.vic.gov.au before midday Tuesday.
Next week's Independent will announce the winners.