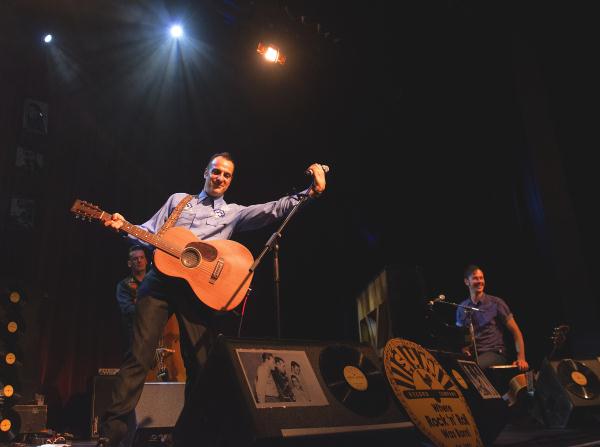 By Emily Iannello
Elvis, Johnny Cash and The Big O will be among the big names that tribute band Sun Rising will honour at its Geelong gig this month.
After selling out venues around the country, Sun Rising – The Songs That Made Memphis, will play Geelong Performing Arts Centre on 18 July.
The show focuses on the musical journey of iconic American label Sun Records and its numerous artists through the 1950s.
Sun Rising co-founder and performer David Cosma said the show featured the music of Jerry Lee Lewis, Carl Perkins, Rufus Thomas Jnr, Howlin' Wolf and more.
"To think that all these big names came from this one little studio is mind-boggling," Cosma mused.
The band aimed to recapture the sounds and stories of Sun's early years while paying respect to the artists and the label's owner/producer, Sam Phillips.
Cosma said he put together the show with mate Damon Smith.
"We both have a common interest in early 1950s rock and roll, so we had this desire to pay tribute to those artists and thought it would be really cool to put a show together.
"We present the story in a chronological order of how it was released but there are also some stories and anecdotes in regards to the artists – people love the history and stories.
"You could call me Elvis-obsessed but my pet hate is impersonators – our show shows real respect to the music and artists."
Cosma said he and the band paid close attention to the original music so their renditions sounded "as close as possible" to the real thing.
"The audience can expect a trip back in time. They'll be turning back the clock and getting into the music that was popular 50 years ago and which has proven the test of time."
Cosma said "travelling across the country and selling stand-out shows" with Sun Rising had been a career highlight.
"We've been able to take the idea across the country in the last 18 months and it's just been going mental."
Cosma said the Sun Rising show had drawn widespread praise, with even Phillips' son and granddaughter congratulating the band for "keeping the legacy alive".