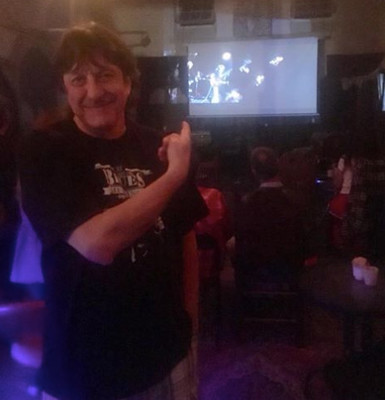 A group of '60s throwbacks must have thought they were still hallucinating when they gathered for a movie about the US's Woodstock hippie festival on Saturday night.
Graeme Houghton was hosting the crowd of around 20 at his The Door Gallery, in Fyansford Mill, on Saturday night when in walked Geelong's Kaz Caldwell with a strangely familiar older bloke.
Graeme said two women in the audience were "thrilled beyond words" when they realised he was one of their long-time idols, Ric Lee, the drummer from legendary English blues rock band Ten Years After.
With eight top-40 albums in the UK during the '60s and '70s, the band is also remembered for Ric's brother and band guitarist Alvin arriving at Woodstock by helicopter before running straight on stage.
Now that's how to rock!
Meanwhile, Ric stayed for the movie, smiling as he watched Ten Years After play the Woodstock stage.
"How freaky was that," Graeme wondered.
"I was there standing next to Ric Lee and watching him on stage back 50 years ago. It was just amazing."
Graeme explained that Ric was in Geelong for a funeral.
As his sister-in-law, Kaz suggested a night out at the local Woodstock movie, to which Ric happily agreed.
"He's 72 and the band's still touring. We were just blown away he turned up," Graeme marvelled.
Old rockers might never die, but they certainly turn up in the least-expected places!
A local job-creation program devised to assist the region's most-disadvantaged areas is growing in unlikely directions.
G21 Region Opportunities for Work (GROW), this week branched out somewhat beyond initial target suburbs in Geelong's north and east to arrive on the relatively affluent Surf Coast.
Even Surf Coast Mayor David Bell seemed to recognise the paradox of his shire signing up to a program for disadvantaged job-seekers despite bragging one of the region's lowest unemployment rates.
"While we currently have a low unemployment rate, we know that more employment opportunities need to be created to match our population growth," he explained.
Hopefully some of those opportunities extend to the initial focus of the GROW program.