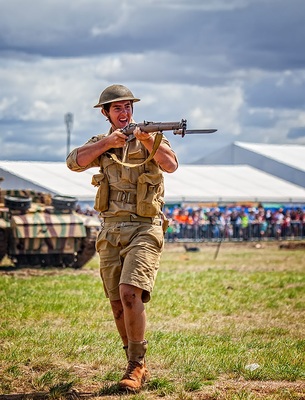 By Luke Voogt
A specialist firearm licence fee hike could "severely limit" Anzac Day traditions in Geelong, according to a local re-enactment club.
An increase of $114.10 for Category D and E firearm licences would prevent some members of the Geelong Military Re-enactment Group from commemorating the fallen, according to club president Jason Boulter.
"It would severely limit our ability to put on a realistic display. The ceremonial work we do is very important to us and to the communities we perform for because it provides context."
About a dozen club members had the licences, which allowed them to use some of the same weapons as Australian soldiers in years past, Mr Boulter said.
"Category D and E firearms are rare and expensive and many of our members holding these licences don't own a firearm of this type," he said.
Some members held the licenses solely for ceremonies and would be forced to relinquish them under the fee hike, he said.
Mr Boulter said there were about 50 Category D and E licence holders in Victoria, the majority being re-enactors.
"They're extraordinarily difficult licenses to get and understandably," Mr Boulter said.
The licence categories covered semi-automatic and automatic rifles – which allowed club members to operate weapons such as the L1A1 Self-Loading Rifle used by Australian soldiers in Vietnam.
Mr Boulter was also concerned by the State Government's plan to introduce a $413 fee for Populous Place Permits.
The club applies for six of the permits per year, for events such as the Torquay Anzac Day Dawn Service.
"It would put an incredible strain on our club," Mr Boulter said.
"If the current government approves the proposed fee increases this important tradition would very likely come to an end."
The fee would put a dint in the club's fundraising efforts for local RSLs, Lions Clubs and other local groups.
"We simply can't let this happen."
Mr Boulter said Police Minister Lisa Neville had assured him re-enactment groups would be exempt from the permit fee.
"As yet we have not seen anything in writing though," he said.
But the minister had yet to make any such assurances regarding Category D and E licences, he said.
The fee for category D and E firearms will rise from $253.40 to $367.50 for three years under the proposed changes.
The group does not keep or use any live ammunition.