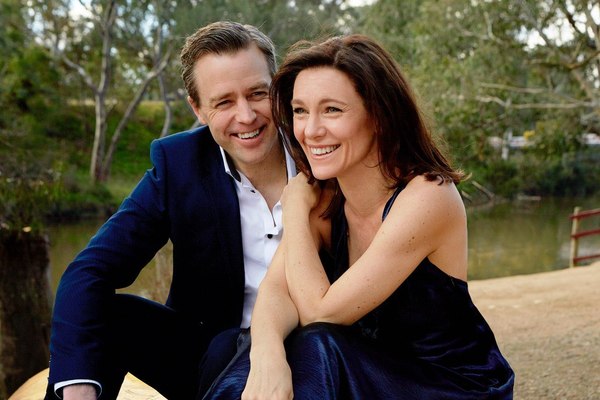 Gripping theatre, iconic Australian actors, international hits, hometown heroes and astonishing acrobatics combine in Geelong's diverse 2019 theatre season.
Geelong musical theatre golden couple Simon Gleeson and Natalie O'Donnell unveiled the season in a circus-themed event in front of 400-plus last night.
Gleeson spoke to Geelong Coast Magazine earlier this year, about moving to North Geelong in 2011 so his wife could be closer to her family.
He soon found plenty to love in his new home city.
"It's certainly a nice place to raise the kids," he told the magazine.
"I love that I can get my kayak into the bay in four minutes.
"(Central Geelong has) that great little pocket of coffee shops and wine bars."
Gleeson recently celebrated his career in a Geelong concert, and was optimistic about the city's theatre and showbiz talent.
"There are a lot of actors here now," he said.
He and his wife last night revealed eight theatre productions and two musical add-ons, including one of their own, for the Deakin University Theatre Season.
Geelong Performing Arts Centre chief executive officer Joel McGuinness said 2019 had "something for everyone".
He urged locals to "explore new ideas" at the theatre next year.
"I believe that the energy and dynamism of live performance brings people together, as well as providing context for sharing and being part of a creative community," he said.
"In an increasingly fast-paced and stressful world, the time to come together and experience live performance is an offer to be treasured."The season will open in February, with Bangarra Dance Theatre returning to The Playhouse stage with the Helpmann Award winning show Bennelong.
Then Circus Oz rolls into town with choreographed mayhem and chaos in new show Precarious.
After a sold out 2018 season, acting legends John Bell (founder of Bell Shakespeare Company) and John Gaden (Muriel's Wedding, Caddie) return with World War II thriller Diplomacy.
New Zealand actor Jacob Rajan spices things up in funny and heartbreaking Indian tale Guru of Chai.
Sunday in the Park with George follows the footsteps of Parisian painters in 1884, while Geelong's Back to Back Theatre will present a mysterious new production, The Shadow Whose Prey the Hunter Becomes.
Next, acclaimed British actor Colin Friels returns to Geelong for the first time since 2012 for one-man play Scaramouche Jones.
This poignant tale begins as an ancient clown stops to reflect on his life, from an orphan on the wharfs of Trinidad to a gravedigger at Auschwitz.
Finally, next November, State Theatre Company of South Australia recreates the hilarious Alfred Hitchcock thriller 39 Steps.
Gleeson and O'Donnell will feature in their concert Music and Heart, while Naomi Price will reimagine The Beatle's music in Lady Beatle.