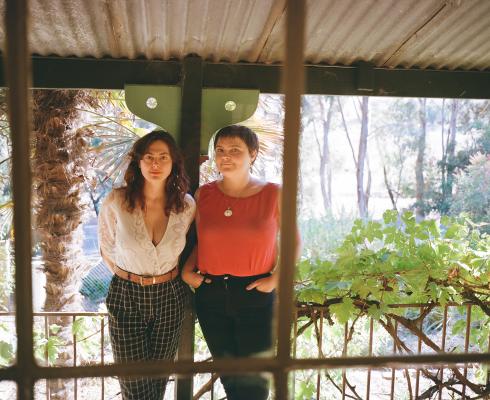 By Luke Voogt
Melbourne folk sisters The Maes will bring their sweet harmonies to Drysdale's Potato Shed for the very first time next Friday.
"We've never played in Drysdale – we're really excited about it," older sister Maggie Rigby told the Independent on Tuesday.
Maggie and Elsie Rigby were born into the arms of Australia's folk community, and the music "seeped into our bones" from an early age, Maggie remembered.
"Folk music was always a really big influence in our lives, we absorbed a lot of it before we became interested in playing ourselves," she said.
"Our parents played in a band when we were really young and they used to take us to folk festivals and quirky gigs at local halls."
Later, their parents Jane Thompson and James Rigby began a family band with plenty of ukuleles.
"Elsie was 12 and I was 14," Maggie said.
"It was definitely a daggy endeavour but it was kind of cute. I'm glad that YouTube wasn't such a big thing then, and that there's no footage of it now."
The sisters continued that musical journey from 2014 as The Mae Trio touring Australia, Europe and North America.
The band became The Maes in 2018 after the departure of founding member Anita Hillman, and the sisters continued travelling Australia and the World with their intricate instrumental arrangements and vocal harmonies.
They played their first ever Geelong gig at The ExChange International Folk Music Conference in March 2020, before their performances came to a grinding halt amid COVID-19.
"We basically put music to one side for the pandemic," Maggie said.
"I spent 2020 looking after our grandfather, who was suffering advanced dementia, and Elsie began working night shift at a sourdough bakery.
"We went from being pretty mobile and touring overseas to being completely stationary.
"I just can't imagine more of a lifestyle shift than that turned out to be."
Their grandfather died late last year, but restrictions had eased enough for all his family to be with him at the end, Maggie said.
While Maggie described the change of pace as "rewarding", she was thrilled to be back playing music and touring again with their new single Make a Baby, which Elsie wrote in 2020.
"I was driving alone late at night and started singing to myself, 'hey baby, what if we make a baby'," Elsie said.
"It's exciting to imagine saying that to someone, wanting to take that huge step with the person you love.
"Fuelled by the love I was in at the time, Make A Baby is all the thrill of becoming a parent, without a scrap of the reality, responsibility or intent."
The song explores having a baby as a queer parent.
"I remember feeling a sadness when I realised I was queer, because I have always wanted to have a baby someday," Elsie said.
"What if I want to have a baby with someone else who has a uterus? It took me too long to realise I can do that."
The Maes have hit the road with the song and, with both unlikely "to become parents anytime soon", the sisters look destined for plenty of musical "adventures" yet.
The tour will bring them to the Potato Shed at 8pm on June 4.
"We've heard really good things about the Potato Shed – we're just really looking forward to the joy of touring again," Maggie said.
"It was the stuff that dreams were made of in 2020."
geelongaustralia.com.au/potatoshed