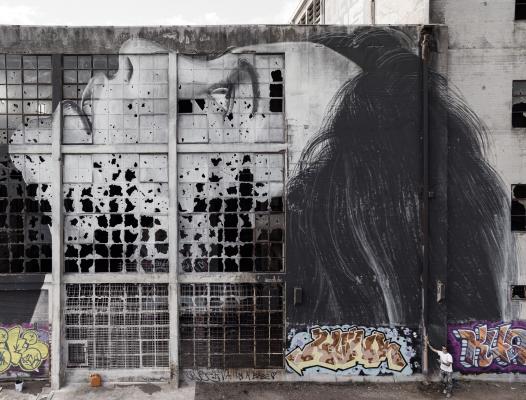 A street artist on "the friction point between beauty and decay" will kick off Geelong Gallery's 2021 – its 125th year in operation.
For the past two decades Geelong-born street artist Tyrone Wright, known as Rone, has transformed derelict walls with hauntingly-beautiful female faces.
Rone's work peers out from beneath overpasses and on walls – in various states of decay – everywhere from New York to New Zealand.
In 2014 he returned to Geelong to join a handful of artists in transforming Corio's abandoned Powerhouse into a colourful urban gallery.
Rone's latest site-specific installation will transform a room within Geelong Gallery in response to its collection and the architecture and history of the building.
The commissioned installation draws inspiration from the Douglass Gallery, one of the most historical rooms in the building.
"Working in my home town is special," Rone said.
"I had to leave to come back, but Geelong Gallery has given me the recognition to further my career.
The gallery will also showcase the first comprehensive survey of his work.
The exhibition, beginning February 27, will track Rone's work from early stencils to photographs of major installations that transformed abandoned spaces.
"My show is an ode to abandoned spaces and a reminder to value the original treasure they once were," he said.
"Influenced by the architecture of the building and the toll of time, the central installation preserves an imagined moment of the space adorned at its finest and left to slowly deteriorate.
"Featuring a push and pull between light and dark, viewers may be compelled to either end of the experience but are united in the same recognition of overall decay."
Melbourne-based jeweller Blanche Tilden will showcase her 25 years of work in May, in a nod to Geelong's recent designation as a UNESCO City of Design.
Also in May, artists Sharon Goodwin and Irene Hanenbergh combine their distinctive talents in imagery etched into three-dimensional objects.
Later that month, the 2021 Geelong contemporary art prize will showcase the diversity and excellence of Australian painters.
Entries open on December 7 for the competition, which Geelong Gallery has staged since 1938.
The two following exhibitions, running till November 28, showcase and draw inspiration from the work of iconic bush artist Frederick McCubbin.
Exhume the grave, beginning on August 14, features Juan Davila, Jill Orr, Polixeni Papapetrou and Anne Zahalka re-interpreting McCubbin's work through the lens of cultural diversity and feminism.
From September 4, Whisperings in wattle boughs will showcase McCubbin's famous pioneer-themed art, such as his 1890 painting A bush burial.
The Geelong acquisitive print awards begin on August 28, with entries opening in March for established and emerging printmakers from across Australia.
The theme continues from September through to March 2022 with the work of Barbara Brash, who was a key artist in Melbourne's printmaking revival of the '50s and '60s.
Her richly-coloured and dynamic works convey a unique visual language built on experimentation and proficiency across a multitude of printmaking techniques.
Throughout her career Brash tested the boundaries of the printed medium, often combining several methods such as wood cuts, lino cuts, lithographs and screen prints into a single piece while embracing abstract forms.
The year ends with a 100th anniversary celebration of the prestigious Archibald Prize.
Archie 100 presents a diverse selection of Archibald portraits from the last century and honours the artists who made the prize the most sought-after accolade in Australian art today.