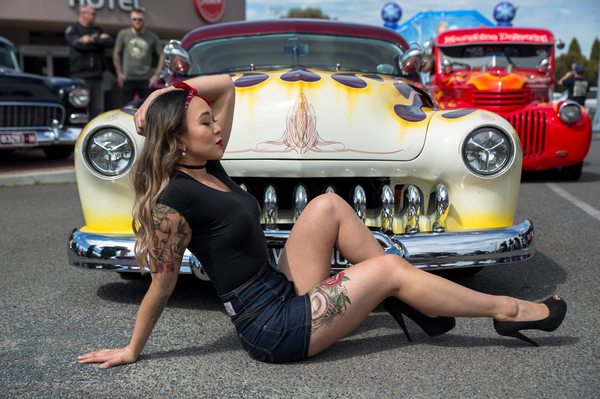 by Luke Voogt
Rockabillies will flock to Corio for shiny hot rods, American muscle cars and pumping tunes when Rats, Tatts N' Pinups hits Gateway Hotel next month.
Rebel Jess and The Mighty Kings lead a big line-up of bands keen to get the fun started when the event kicks off at 1pm on 12 October.
The band's "powerful, energetic and charismatic" new singer Jess loves nothing more than getting crowds excited, according to long-time member Don Giovinazzo.
"She knows how to judge a crowd," the double bassist known onstage as Donny G said.
After playing in various cover bands with Jess for 10 years, the Rats, Tatts N' Pinups veteran invited her to join the Kings.
"Because we've been together for so long, we work well off each other," he said.
The band goes on a wild rockabilly ride from Carl Perkins and Elvis Presley, through to '70s band Stray Cats and modern Melbourne rockers The Living End.
"We're just an energetic, fun band," Donny said.
"What I don't like is when people just stand onstage and play and do nothing. I like to muck around with the crowd and get them involved."
Donny looked forward to getting among the crowds and checking out the event's huge variety of pimped-up rides.
"I love these events – you get to see cars you'll never see again; it's family friendly and it's like a community – that's what the Rockabilly scene is all about."
Donny has played on and off for 20 years with The Mighty Kings.
A surprise 40th birthday present from his partner and an odd coincidence got him back into music five years ago.
"I was expecting a recliner, and I got a double bass," he said.
Just a week later, he got a call from an old band mate to get The Kings back together.
Along with bands, the event includes tattoo comps, art galleries and rides for little rockabillies.
"I've never seen a rockabilly event which caters for kids like this," Donny said.