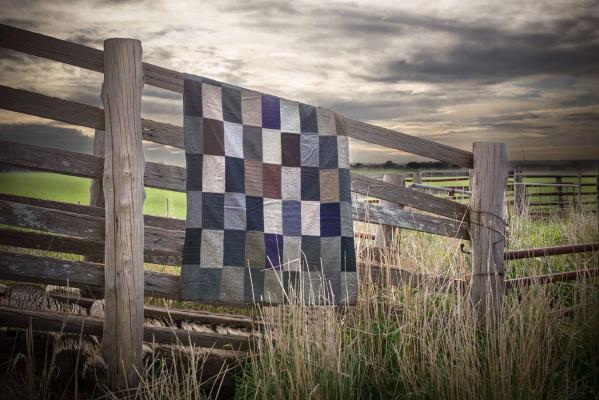 Victoria is in lockdown, for now, but the National Wool Museum's tribute to the "make-do Aussie spirit" is set for a fitting return when restrictions ease.
The museum is custodian to one of Australia's largest and most significant collections of heritage quilts and waggas, on display for the first time in 25 years.
While temporarily closed, 'Necessity: waggas and the art of making do' is scheduled to remain on display until December 5, giving locals a chance to view the exhibit when restrictions ease.
Born of necessity and the desperate times of the 1890s to 1930s, the wagga was the bushman's blanket, made by pioneering men from old jute wheat sacks and wool bales.
As it evolved, women replaced the rough jute sacks with calico flour bags, fabric swatches and bits of old clothes.
The wagga embodies "the make-do Aussie spirit", according National Wool Museum director Padraic Fisher.
"Necessity: waggas and the art of making do shows us that even in challenging times our designs can be quite extraordinary," he said,
"In Australia, this art of making do has a long and rich history."
Taking inspiration from the wagga, the exhibition presents a range of other creations borne of necessity from across the centuries.
These objects include a wool fragment recovered from the 1797 Sydney Cove shipwreck, a maid's dress from 1840, two rare Jimmy Possum chairs, contraband from the Geelong Gaol and even an upcycled cardboard sleeping bag.
The exhibit also includes contemporary community quilting projects to show that the art of making do "is still with us and continues to thrive today".
"As we marvel at furniture, dresses and waggas cobbled together from scarce materials available at the time, it is vital we recognise the ingenuity and skills of making do," Mr Fisher said.
"Exhibitions like this are important because they help connect us. Like a handshake across time, they bring us closer to those who made and used these objects and the lives they lived."
Mayor Stephanie Asher said the exhibition told the stories of treasured family pieces and the people they are connected to.
"Council is dedicated to the preservation and promotion of Australian heritage quilts and waggas as part of cultural programming at the National Wool Museum," Cr Asher said.
"Through [various other] ongoing programs we continue to support this commitment and help tell the deeper stories of these treasured pieces."
Details:geelongaustralia.com.au/nwm