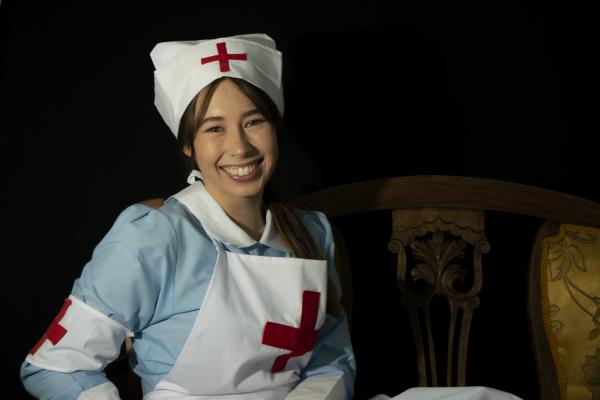 By Luke Voogt
A Geelong mother and daughter are set to star in a World War I remake of a "lost" Shakespeare play, as local theatre groups slowly return to the stage.
Hamlyn Height actress Melissa Musselwhite plays three characters in Skin Of Our Teeth Productions' Love's Labour's Won alongside daughter Rose, who has the lead role.
"I'm trying to work on three different accents," she told the Independent.
Musselwhite has performed onstage for 40-plus years, including 30 in Geelong, and has been with Skin Of Our Teeth since its inception.
Rose followed her mother into local theatre beginning with an odd role in Geelong Repertory Theatre's production of Arsenic and Old Lace about a decade ago.
"Probably the first show was when she was 14 – she played a dead body that got carried onstage over someone's shoulder," her mother recalled amusedly.
"I think because she was little and light, that was what worked.
"I remember saying to her, 'if we're really lucky we might get to perform a show together one day'.
"And we've since done eight or nine together."
Rose will certainly be more animated in Love's Labour's Won playing at Waurn Ponds Hall for nine shows beginning on March 5.
Love's Labour's Won is a lost play attributed by contemporaries to William Shakespeare, written before 1598 and published by 1603, though no known copies have survived.
The play has been set in World War I previously, but director Emma Watson has made this version her own, according to Mussewhite.
"It's going to be quite fresh, bright and new to people," she said.
"Emma has had this in the works for a long time. I think it's very exciting for her to finally see it onstage – fingers crossed – next week."
The group returned to rehearsals recently after more than a year absent from the stage due to COVID-19.
"I was actually feeling a little bit anxious about committing again to rehearsals," Musselwhite admitted.
"But the first rehearsal back, the anxiety just flew away and I realised I was back in my happy place.
"And everyone else agreed. It's good a place to be in."
Musselwhite most looked forward to her role as the padre, who "helps love win" when "things go awry".
She was thrilled to be part of one of the first local community theatre groups to return to the stage.
"It's a little bit of a risk but Christine Davey, who runs the company, has looked into every detail of what needs to happen," she said.
"Audiences can rely on the company to keep them safe and not to perform if it's not safe."
The return of community theatre would be "absolutely" beneficial to the mental health of local actors, she said.
"Most people I know who are involved in theatre always feel better after a rehearsal.
"Or they release some emotions onstage that they never knew they needed to release.
"It's extremely important. It's like having a second job for a lot of people.
"It's a job you don't get paid for but it becomes a part of your life. It's almost an addiction.
"It keeps your brain active and it's good for memory too.
"It's just a great vibe when you're at the theatre it all comes together.
"It's that feeling of a group of people doing a great thing together that others get to enjoy."
Details: skinofourteeth.com