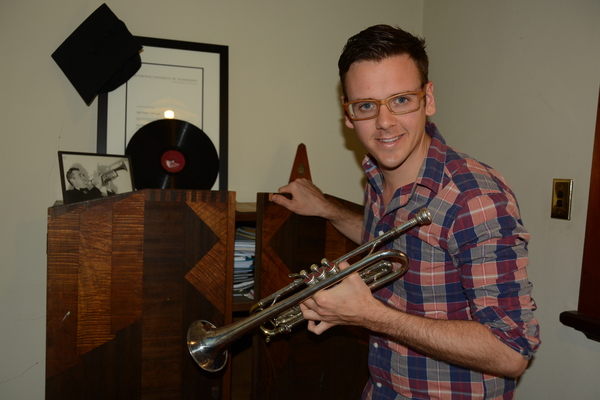 For 25 years the locked cupboard of jazz musician Col Brain sat in a family garage until Newtown presenter Joel Carnegie unlocked its secrets.
The wooden dresser was the once-prized possession of his grandfather and had remained closed since he died.
But a couple of years ago Carnegie uncovered the family secrets within, which inspired a musical tribute, Stardust, to his late grandfather.
"Col Brain was an incredibly respected musician and teacher across Victoria," he said.
"He left a legacy in the music he played, the students he taught, the family he loved and in me, so the show will be full of jazz standards and songs from Col's era."
Originally a documentary for ABC Radio National, Stardust won Best Performance By An Actor and Best Innovation at the 2017 New York Festival International Radio Awards.
Now Carnegie brings his one-man show to Geelong Performing Arts Centre for a documentary theatre double bill on 16 and 17 May.
Following Stardust is The Mission, a tale of a 'Fighting Gunditjmara' man returning home from war, only to be forced from his traditional lands.
In the show award-winning actor Tom Molyneux shares the story of his great, great uncle, Allan McDonald, who fought in World War I.
Hailing from southwest Victoria, McDonald was one of the state's first Indigenous soldiers to enlist for the war.
"He fought abroad in some of the most famous ANZAC campaigns, including at Gallipoli and the Battle of Beersheba," Molyneux said.
"Despite suffering extreme racism on his return to Australia, Allan fought for the rights of his Indigenous community.
"This is a story about not giving up on what you believe in and fighting for justice, whatever the cost."
James Jackson directs the piece, which Molyneux created in collaboration with Gunditjmara community members.
The Mission traces the account of a soldier at war, at home and abroad, unlocking some shocking secrets about Molyneux's family past.
With Geelong West Brass Band performing in both shows, Stardust and The Mission will reveal the extraordinary stories of two Australians whose legacies still reverberate today.