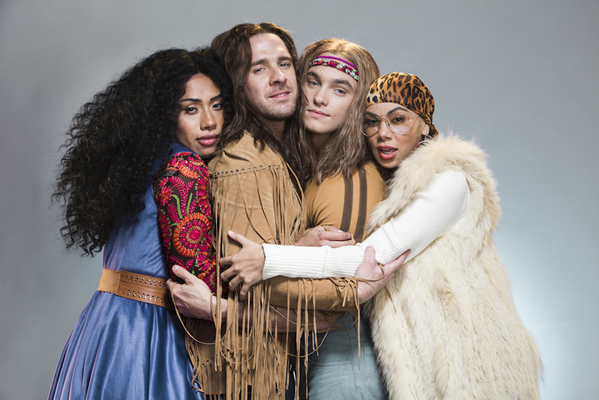 Barefoot, bohemian celebration of '60s counterculture Hair comes to Geelong next month, 50 years since the world-famous play debuted in Australia.
That original 1969 Australian production kick-started the careers of some of the country's best-known performers including Reg Livermore, John Waters and Marcia Hines.
Now the hippie-inspired musical returns with a diverse cast with hundreds of TV, stage and musical credits to their names.
Leading the cast are TV actor Hugh Sheridan, Australian idol finalist Paulini and fellow reality star Prinnie Stevens.
Sheridan played Ben Rafter in five seasons of Packed to the Rafters, which was Australia's highest rating family drama.
He also featured in INXS telemovie Never Tear Us Apart and TV series House Husbands, and has four silver Logie Awards to his name.
More recently Sheridan scored a roll in Netflix film Isn't It Romantic alongside Rebel Wilson, Liam Hemsworth and Adam Devine.
The 34-year-old has a decade of stage credits, including his sold-out one-man debut show Newley Discovered at Adelaide Cabaret Festival in 2009.
He also released an album, Speak Love, in 2010 and is currently working on a second album.
Fellow cast member Paulini shot to fame in 2003 after coming fourth in the inaugural season of Australian Idol.
The Fijian-born singer-songwriter went on to have a successful musical career, with her debut album One Determined Heart reaching double platinum.
In 2017 Paulini landed the lead role of Rachel Marron in an Australian stage version of The Bodyguard (Whitney Houston's role in the film).
More recently she starred in an Australian production of Saturday Night Fever.
Fellow former Australian idol contestant Prinnie Stevens joins Paulini on the cast.
Prinnie performed at age 17 in an Australian production of Rent: The Musical and made the top 30 of Australian Idol in 2004.
Her Helpmann-nominated performance in Oh, What A Night! saw her move to New York to front an all-girl group for Sony Music.
While in New York, Prinnie performed alongside Patti LaBelle, Chaka Khan, Mary J Blige, John Legend and many more.
She later moved back to Australia and in 2012 auditioned for The Voice, making the finals of the TV singing talent quest.
The trio play George Berger, Dionne and Shelia in Hair, set in the '60s when people were losing faith in the establishment and the Vietnam War.
Hippie counterculture, experimentation and free-love eschewed conformity as people let their hair down.
The show features a Grammy Award-winning score including songs like Aquarius, Good Morning, Starshine, Hair, I Got Life and Let The Sun Shine.
Hair comes to Geelong Performing Arts Centre for seven shows from 4 to 8 September.
The play still resonated in today's world amidst issues like human rights, the environment, freedom of religion, race and gender equality, promoters said.