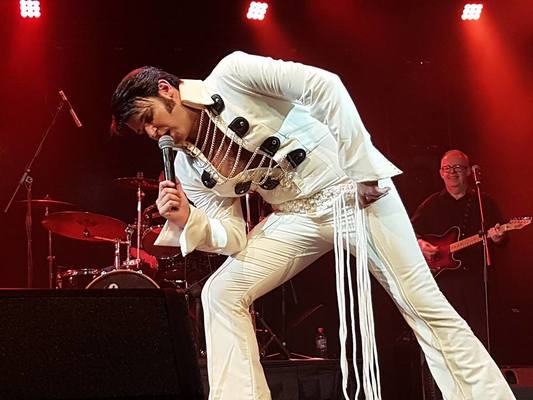 By Luke Voogt
Performing for thousands of screaming Elvis fans has become a regular gig for Leopold's Jack Gatto since he won an Australia-wide competition to impersonate the king.
Gatto's life changed forever at Parkes Elvis Festival in 2015 after winning a tribute in front of 7000 people in the year of The King's 80th birthday.
"I entered it for a bit of fun," the 27-year-old said.
"I won it and it just took off from there."
After winning international renown and performing on cruises and stages across the world following the fateful appearance, Gatto returns to Geelong next month for a once-off show.
He joins The Voice finalist and Tom Jones impersonator James Cupples in The Kings of Rock and Soul at Geelong Performing Arts Centre on 9 March.
Gatto was impressed Cupples' voice and work ethic in previous shows together.
"He's phenomenal," he said.
"The show is not gimmicky in any way – it's actually showing true respect to (Presley and Jones) as entertainers."
Gatto first discovered his talent for impersonating Elvis when his Dad played records around the house, much to the embarrassment of the then-16-year-old.
"I used to say, 'turn it off Dad! I can sing like this bloke!' and he said, 'no one can sing like this bloke, he's Elvis Presley'."
Gatto accepted the challenge and amazed his dad, who heard the resemblance to The King in his voice.
The revelation led Gatto to study Elvis concerts and shows to mimic his moves and mannerisms.
"I fell in love with who he was as an entertainer and a person," he said.
Almost a decade later Gatto would win tribute competitions at Parkes, Surfers Paradise and even Crown Casino.
The Parkes win earned him a trip to Memphis where he made the top 24 Elvis Tribute Worldwide.
He would go on to perform for some of Elvis's family in 2016 during five shows at the iconic Graceland mansion and become friends with The King's cousin Louise Smith.
But perhaps Gatto's strangest gig as Elvis was performing alongside iconic children's band The Wiggles.
He was sitting at home on the couch when he got a text message from the band's Anthony Fields.
"Anthony and I had been talking quite a bit," he said.
"He said, would you like to come to Rod Laver Arena."
The Kings of Rock and Soul: Elvis and Tom features an orchestra and choir as Gatto and Cupple tear through Elvis' and Tom Jones' greatest hits.
While Elvis Presley and Tom Jones were close real-life friends they only appeared on stage together a couple of times.