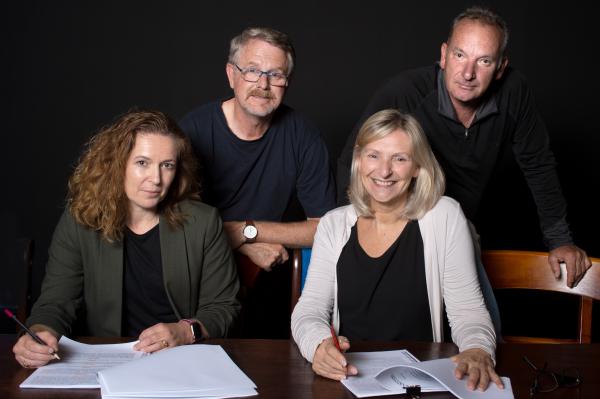 By Luke Voogt
Geelong Repertory Theatre Company is set to return to live performance next month with A.R. Gurney's Pulitzer prize-nominated tale Love Letters.
"It's a lovely piece," the community theatre group's president Tina Rettke told the Independent on Tuesday.
"It starts when the two people onstage are six or seven and goes through to their mid-50s. Their lives take all sorts of turns along the way.
"They're just sitting down reading these letters to each other and it's just a beautiful way to tell a story – in a COVID-safe way."
When Andrew Makepeace Ladd III accepts an invitation to Melissa Gardner's birthday party, a romantic friendship and correspondence destined to last almost half a century is born.
The friends communicate with each other through angst-ridden boarding school experiences, European adventures, failed marriages and the ups and downs of career.
The sometimes-sweethearts, sometimes-friends go through periods of estrangement, and an intense, clandestine affair accelerates Melissa's emotional breakdown.
But despite the painful differences that tear them apart, they remain each other's most trusted confidante.
"Will they become true lovers on earth as well as on paper?" Rettke hinted.
The long-time thespian was thrilled to return to live performance after a COVID-19 hiatus.
"We had our first rehearsal last night," she said.
"It was just lovely to be doing something creative and artistic again."
COVID-19 halted live performance in Australia for most of 2020.
But that barely compares to the pandemic's impact in the UK, where Rettke's son Taylor is currently chasing a career in music and theatre.
"Obviously he isn't working in theatre at the moment," the mother-of-three said.
Despite the pandemic currently overwhelming the UK's public health system and putting the country in lockdown, Taylor was coping well and teaching private piano lessons, Rettke said.
Taylor shares his love of performance with his mum, who has been part of Geelong Rep on-and-off for 38 years.
"I've been involved with Geelong Rep since my first play with them in 1982 – I played Elisa Doolittle in Pygmalion."
This time she will take to the stage as Melissa Garner in one of two casts for the play, which she said would be faithful to A.R. Gurney's original instructions.
The two casts resulted from delays to planning the company's 2021 season due to COVID-19.
"It was such a tight turnaround time," Rettke explained.
"There's a lot of planning that goes into putting on these shows. We couldn't mess around looking for a cast that was available to do all of it."
The double cast, also featuring Jocelyn and David McKay, and Neil Fletcher, serves as a contingency plan too.
"The biggest risk to theatre is that someone tests positive to COVID-19 or happens to be a close contact of someone else who does," Rettke said.
"Even though they might not be sick, they may still have to quarantine for 14 days."
As Geelong Arts Centre's visitor experience manager, Rettke is completely across COVID-safe measures for the theatre.
"Not only do I work in the theatre realm, I spend all my free time in that realm," she laughed.
Love Letters plays at Woodbin Theatre in Geelong West for 10 shows beginning on February 5.
Audiences will be required to wear masks and will be socially-distanced during the play.
"People have been buying tickets, so they obviously want to watch some theatre," Rettke said.
"It's going to be a year where we're going to have to be as adaptive and flexible as possible."
Details: geelongartscentre.org.au/whats-on