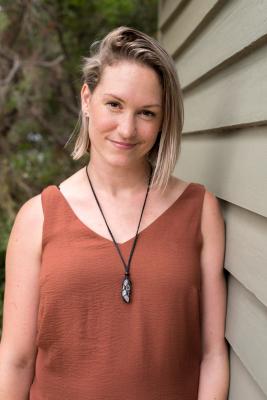 By Luke Voogt
A Disney-themed live-streamed extravaganza will be Belmont actress Sally-Anne Cowdell's first time performing in eight months and could be her last for months to come.
Now seven months' pregnant, Cowdell will belt out tracks such as You'll Be In My Heart, which Phil Collins recorded for Tarzan in 1999.
"It's a beautiful ballad that I'll probably cry in – but we'll see," Cowdell said.
"It might be my last sing for a while."
The 33-year-old will join five other talented vocalists in Geelong Lyric Theatre Society's Wish Upon A Song at Geelong Arts Centre next Saturday, November 28.
"I grew up with Disney. A lot of the songs didn't take much learning because you already know them from singing along," she said.
"I'm absolutely stoked to represent the Lyric and share the joy of singing with others in pretty much the only way we can.
"It will be interesting singing to a camera and not an audience, but hey, we'll give it a go."
She saw the five other vocalists face-to-face for the first time since March during rehearsals beginning a fortnight ago.
"It was so nice just to be able to share music with others – I think you forget how amazing it is until you begin doing it again," she said.
Cowdell has performed with Lyric since her first show with them at age 16 in 2003.
"They're a real family company," she said.
Initially the company had planned the Disney-themed show for earlier this year, but COVID-19 stopped that.
Since then Cowdell has had the "very challenging jobs" of teaching singing over web conferences and getting "all the tricks out" to keep her two-year-old son Axel entertained.
"It's been really nice that the parks have opened again," she said.
"I never knew how important they were until they closed."
Joining Cowdell for a duet in Love Is An Open Door, from Frozen, is Armstrong Creek actor Bryce Baumgarten.
"Sally's got a beautiful warmth to her voice," Baumgarten said.
"Last time I saw any of them was our final rehearsal back in March.
"I think the next day the decision was made that we couldn't go ahead, which was the right one, but devastating.
"It was cathartic for us to all have a giant sing together again. There's something really magical about it."
Baumgarten, 40, trained at the Western Australian Academy of Performing Arts and retired from professional acting about a decade ago.
"These days it's 100 per cent for enjoyment," he said.
But he has plenty of friends still in the biz who have lost livelihoods during the pandemic.
"Musical theatre is not the most stable of professions, so when you land those big gigs it's very exciting," he said.
"I had friends in Shrek, Billy Elliot, and in the blink of an eye that was gone.
"They've had giant shows and tours cancelled, so some of my friends are shattered."
But he thanked Geelong Arts Centre for supporting a local group such as the Lyric for Wish Upon A Song, which includes pre-recorded backing vocals by Geelong Youth Choir.
"We've got a really lovely mix of classic songs and newer stuff," he said.
Baumgarten will sing hits Friend Like Me from Aladdin and Hakuna Matata from The Lion King.
"It's been my lifelong dream to play Pumba," he laughed.
"These songs are so ingrained in us from watching them as kids. I'm just grateful for an opportunity to show what this performance is going to be like when it's finally staged for a live crowd."
Details: geelongartscentre.org.au