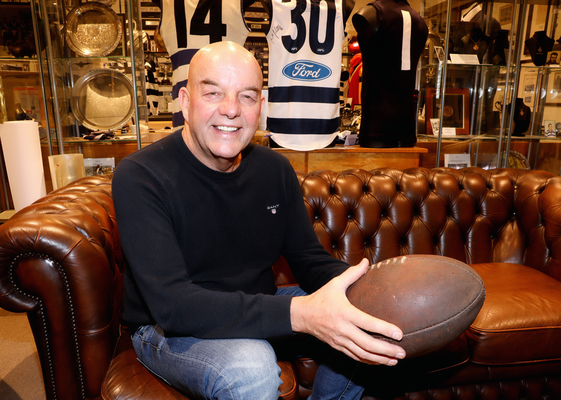 by Luke Voogt
The 160-year history of "the greatest team of all" goes on display tomorrow night as historian Bob Gartland shares his incredible collection with the public.
Bob's Geelong Cats collection, his "life's passion", features club relics from when the American Civil War raged and the gold rush drew pioneers to Victoria.
"People will see things that they have never seen before and rare treasurers that have been very hard to acquire," the 65-year-old said.
"I'm hoping people will see what I see in my love of the club.
"We've survived world wars, the depression, huge economic downturn… but we have survived.
"I have two children and three grandchildren and they all love Geelong Football Club."
Bob owns what he says is the oldest football membership ticket in the world, dating back to 1864 – five years after club's founding in 1859.
"There are football clubs in England claiming they have the oldest membership ticket," he said.
"But several historians have confirmed this is the oldest."
His collection features the AFL's (previously VFL and VFA) oldest football guide and umpire whistle, and the oldest footage of Geelong playing.
He also owns the oldest complete set of Geelong Football Club cards from 1900; fitting, given his passion started from collecting cards as a kid.
"My favourite was Graham 'Polly' Farmer and I still have that card from 1963," he said.
For half a century Bob visited countless auction houses in search of thousands of Geelong Football Club artifacts.
Bob's collection includes priceless treasures once belonging to Farmer, a long-time friend until his recent death, and Charles Brownlow.
It also includes memorabilia from more recent legends like Garry Hocking, Paul Couch, Gary Ablett – senior and junior, Matthew Scarlett and Joel Selwood.
And, of course, Bob's collection tells the story of Geelong's famous Cats nickname too.
The Greatest Team of All exhibition opens at Geelong Gallery on 20 September with free entry from 10am to 5pm daily until 10 November.
Read more about Bob's story in the latest Geelong Coast Magazine, available at all good newsagents.