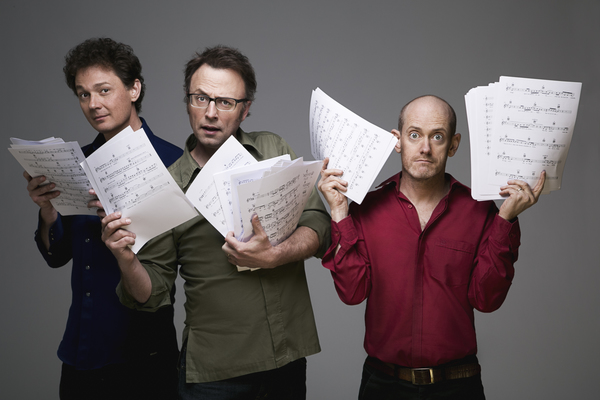 By Luke Voogt
An online search of Tripods' third leg Simon Hall uncovers a sensual past to the man known as 'Yon'.
In 2014, Hall diverged briefly from the musical comedy trio for a "midlife crisis" show titled Yon and his Prism of Sexy Thoughts.
"It's a real life lesson isn't it," Hall said, laughing, when the Independent discovered a promotional image of him clad in a towel.
"It's something everyone knows now, right? Put something online and it's online forever.
"I must have had a good publicist at the time because that image follows me around a bit."
Hall soon re-joined fellow Tripod members Scott 'Scod' Edgar and Steven 'Gatesy' Gates and, fast forward six years, they are on their way to Geelong.
The trio, who will play a live-streamed show at Geelong Arts Centre next Friday, have been performing together for more than two decades.
"It's like a marriage I guess, that has survived," Hall said.
"I think at the end of the day they're both good blokes – as much as we s**t each other along the way."
The group started out playing cover gigs in Melbourne pubs, and busking in malls with ridiculous props to songs such as Queen's Fat Bottom Girls.
"In the back of [Scott's] pants we had two balloons and two bike pumps attached to them," Hall explained.
"Then his arse cheeks would get bigger and bigger over the course of the song."
Tripod's breakout moment came in 1997 on Hey Hey It's Saturday, making fun of Oasis's songs all "sounding the same".
Their performance drew a big reaction from the crowd and 9/10s from judges swimmer Kieren Perkins and tennis player Todd Woodbridge, after host Daryl Sommers announced the band's name to chuckles.
Even notoriously-harsh resident judge Red Simons gave them 6, stating: "I don't like Oasis either."
"I do like Oasis," Hall said, reflecting on the moment.
"You watch the video of us singing and … we look so nervous.
"But there's a certain moment when we sing all the Oasis songs over the top of each other and we just relax – we own it. Basically, when everybody starts to clap.
"That song was definitely our calling card for a while.
"When you start writing songs, you suddenly realise how many use the same chords and feel the need to tell the world about it."
Soon after they scored a gig at the Melbourne Comedy Festival, which they have been part of since.
"We were always sort of whacky but we didn't have jokes or anything," Hall said.
"Once you're on the comedy festival circuit – even if you're not that funny – you suddenly get labelled a comedian, so you want to deliver on that.
"You really want to start having proper jokes in your show rather than being a weird sort of cabaret act."
A Star Wars and Monty Python fan, Hall sings songs about everything from drinking salt water to his disappointment in Return of the Jedi alongside his Tripod colleagues.
"Star Wars still makes people angry, even now," he said.
The band's Perfectly Good Podcast has been going for years, and during COVID-19 they have been writing 20-minute impromptu songs based on viewer suggestions.
But Hall promised viewers a "good solid show" of favourites rather than "any of that half-baked stuff" when Tripod live streams from Geelong.
He hoped to interact with people commenting on the live stream – something sorely lacking for people during iso, he said.
"The only thing we have to offer versus Netflix or something … is that interactive aspect."