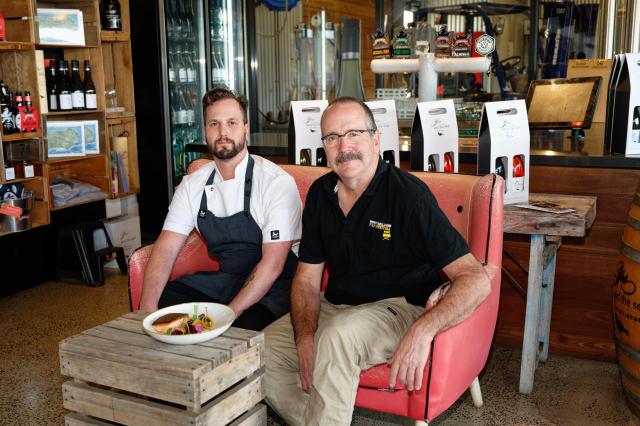 Ash Bolt
The North Bellarine Film Festival and Flying Brick Cider House are coming together to present a new way to showcase short films.
The pair is collaborating on a new event, Art House Films and Feast, where attendees will enjoy a four-course dining experience at the Bellarine venue while a collection of short Australian and international films will be screened.
The first night, scheduled for April 21, is already sold out, with plans for more follow-up events in the works.
Flying Brick co-owner and director of hospitality Lyndsay Sharp said the entire Flying Brick team was excited to host the event.
"It's a privilege to be in a position to showcase and support the arts industry in a small way as we collectively focus on recalibrating, recovering and looking towards a more positive future," she said.
"The films have been especially curated by the North Bellarine Film Festival committee for the event and are as diverse as they are engaging.
"Patrons will cross frontiers of humour, wisdom, dysfunction and inspiration."
North Bellarine Film Festival chair Bill Lussier said the collaboration was a great way to showcase short films.
"Partnering with the Flying Brick Cider House to present this program of Australian and international short films is a great opportunity for audience members to be exposed to this rich world of filmmaking which is not often seen in theatres and on streaming services," he said.
"The North Bellarine Film Festival is aiming to bring great Australian and world cinema to the Geelong region. We are really excited that this event sold out so quickly because it shows us that there is a large audience that is keen to experience this genre of filmmaking.
"The festival committee is looking forward to continuing its partnership with the Flying Brick Cider House and to bringing great cinema to the region."