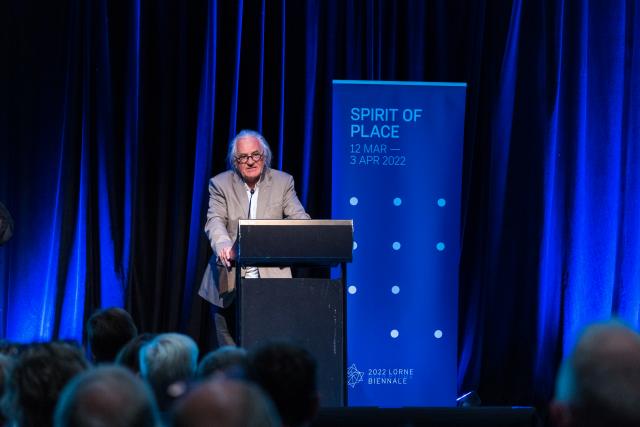 Ash Bolt
The seventh incarnation of the iconic Lorne Sculpture Biennale was officially launched last weekend by Tourism Minister and Wannon MP Dan Tehan.
The sculptors, VIP guests, dignitaries and the festival's supporters gathered at Mantra Lorne on Saturday, March 12 to launch the Lorne Sculpture Biennale, which had been delayed several times by the pandemic.
Held along the iconic Lorne foreshore, the Biennale's 16 sculptures will be in situ until Sunday, April 3.
The theme, Spirit of Place, was conjured by curator and local arts legend Graeme Wilkie, who invited the artists to create to the theme, taking inspiration from Lorne's natural beauty, history and cultural spirit.
Wilkie said it was pleasing to finally see the sculptures in place and the Biennale going ahead.
"[The launch] is the culmination of years of work that included two postponements and some challenging conditions for our artists and event teams," he said.
"I am proud and delighted with the incredible effort and commitment shown by everyone to bring this amazing event to fruition.
"We know this year's Biennale will be one of our finest yet and we thank our local federal member, the Hon Dan Tehan MP, for joining us to celebrate vision and creativity in this beautiful location.
"We look forward to welcoming record numbers of visitors to Lorne over the course of the Biennale."
In addition to the main event – 16 sculptures from notable sculptors including Stevens Vaughn, Deborah Halpern, Geoffrey Ricardo, Laine Hogarty, Alexander Knox, Karen Casey and Maree Clarke – the Biennale this year includes a small sculpture exhibition.
The exhibition features works by all 16 selected Biennale artists and will be held in Lorne's Community Connect building for the duration of the Biennale.
A range of invited emerging, mid-career and established artists will also be showcased in the exhibition, with all the works available for purchase.
The free event is also offering a small sculpture prize of $5000, with a judging panel including former Geelong Gallery director and Point Leo Sculpture Park head curator Geoffrey Edwards, former Ian Potter Museum of Art director Kelly Gellatly and Dr Graeme Williams.