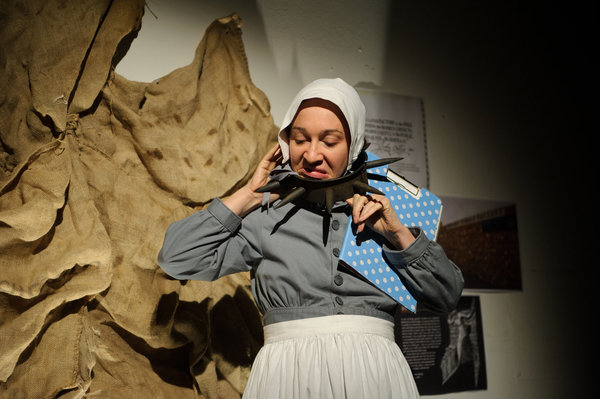 By Natalee Kerr
A "provocative" play exploring the dark past of convict history is set for a local debut next month.
Actress and play creator Emily Goddard said real-life incidents at Hobart's Cascades Female Factory inspired "anti-bonnet" drama This is Eden, which brought to life the "extraordinary tale" of rebellion and survival of female convicts.
Goddard developed the show after discovering that her great-great-great grandmother spent time in solitary confinement for "stealing a beer glass and an apron".
A tour of the Tasmanian factory in 2012 revealed to Goddard the "hardships" and "horrific abuse" inflicted on her "non-violent" convict ancestor, she said.
"I was so shocked," Goddard explained
"I just remember thinking, 'How did I never know about this history?' I wasn't taught this in school, so I had no idea.
"I really wanted to present the horror and not shy away from these experiences."
The making of the play involved 18 months of research into records, documents and letters, Goddard said.
"You don't have to scratch that far to be shocked. It was so horrific what they had to endure, it's incredible they made it out alive."
Set in 1839 in a solitary cell, the one-woman show features Goddard playing a tour guide and convict who share the history of female convicts and the stories of their captors.
Goddard said the play was a solo performance but she never felt "alone" because the script was designed to "break the fourth wall".
"It's not a show where the audience are just sitting and watching. They play another character.
"The hardest thing is the terror that comes just before it, but once you develop that rapport with the audience it doesn't become a solo show anymore."
The Melbourne-based theatre maker said the play had "grown" since its 2015 premiere.
"It's not often that you get to have multiple seasons of a new work. We're now in the fourth season and it's been amazing.
"I love it and I want to keep doing it as long as I can."
After a sold out season in 2017, Goddard said she was thrilled to be sharing the show in Drysdale for the first time.
"I've never performed at the Potato Shed before, I came down for a visit the other day and it's a gorgeous space. I can't wait to get up on stage," she said.
"Hopefully people will leave with more of a connection or understanding to that part of history."
This is Eden lands at the Potato Shed on 9 November.