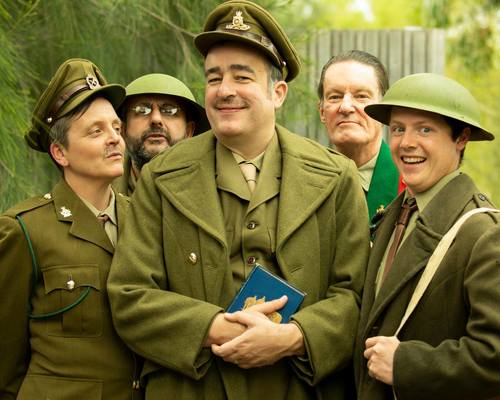 By Luke Voogt
Blackadder Goes Forth with a "cunning plan" in a Geelong onstage adaptation next month, including a special show for the Centenary of Armistice.
Leopold actor Scott Beaton is busily growing a "horrific" moustache to play Captain Edmund Blackadder in the whacky theatre interpretation of the all-time great British sitcom.
"I'm taking one for the team," the 43-year-old father-of-two laughed.
"Everyone thinks I'm getting a run on for Movember."
The biggest challenge for Beaton playing Blackadder will likely be keeping a straight face throughout the hilarity.
"All around me all the characters are bonkers," he said.
"While all that craziness is going on I've got to be the one in control with the dry wit.
"We had an enormous riot of fun last night rehearsing and falling about laughing because the material is that funny."
The play would closely follow season four of Blackadder, set on the Western Front, with a cappella songs and some theatrical flair thrown in, Beaton said.
"It's right in front of you rather than (on TV). It's like you're right there in the trenches with Blackadder, Baldric, George and Darling."
The "rapier wit" of writers Ben Elton and Richard Curtis and excellent casting made Blackadder a timeless classic that many people still quoted, Beaton said.
"Even people that have never watched the show would have used sayings like, 'I have a cunning plan'."
Beaton admired the writers' gallows humour and ability to have viewers in tears of laughter and grief.
"This is very strongly an anti-war show and that's very hard to do with a laugh-out-loud show," he said.
"It's so silly and so funny but then the last ten minutes are so… poignant."
Beaton has acted in or directed about 25 shows and met wife Rebecca during a local play in 2008.
"We completed each other," he said.
"We're public servants in our day jobs and we're community theatre lovers and actors in our nightlife."
The "star-crossed lovers" got married a few years later.
"We announced our first child when we did Romeo and Juliet," he said.
"It's a pretty crazy life being a community theatre person because it's such a big commitment – you have to be a little bit nuts."
Already the theatre genes are showing up in their children, aged 1 and 5.
"They're going to be very theatrical – we can see that – they're putting on little plays and concerts for us already," Beaton said.
His wife was taking a break from acting but would bring the kids to see Blackadder, he said.
"They'll be able to see their dad and his friends in action! I'm pleased they will be able to see this one even though it's got some very adult themes."
Skin Of Our Teeth productions presents Blackadder Goes Forth at Shenton Performing Arts Centre from 2 to 17 November, including a Centenary of Armistice tribute on 11 November.
"It will be a special performance," Beaton said.
Search Blackadder Goes Forth at trybooking.com/book for tickets.