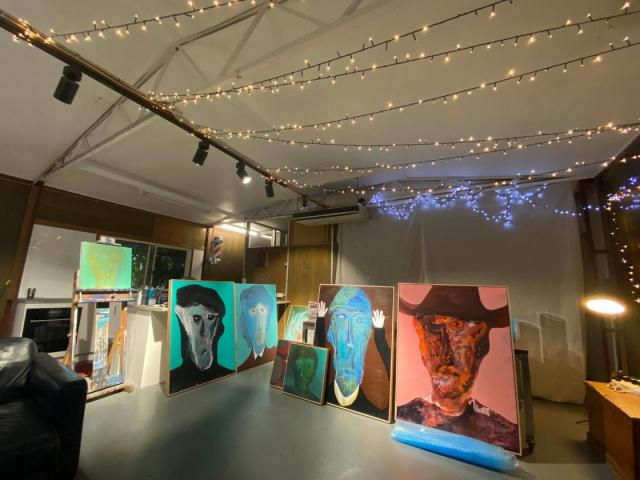 Boom Gallery is preparing for its next set of exhibitions, featuring a solo exhibition from Harry McEvoy and group exhibition featuring Ellie Malin, Marnie Ross and Emma Lipscombe.
McEvoy's exhibition Mirrors and the group exhibition Chroma will both open on April 28 and run until May 22, with an official celebration from 1-3pm on Saturday, May 7.
Mirrors is a celebration of McEvoy's youthful energy and boldness, with the Surf Coast native first exhibiting at the gallery as a high school student in 2015.
He said the work was his response to his new environments as he grew up.
"Over the past year I've developed a new body of work in response to navigating new environments. In which I've moved out of my normal studio space and now working in a large old shed on a farming property.
"[It's] a change which has influenced large scale faces and figures to appear upon the wooden panels and canvas. Both space and time have allowed me to create obscure portraits that are reflective of the viewer.
"When making this body of work the process felt very natural.
"I get a great freedom of throwing myself into a blank canvas and navigating the surface. Building form and composition until a figure slowly starts to jump out at me."
Chroma, the group exhibition featuring small works by three painters working across Victoria, New South Wales and Western Australia, is a celebration of colour and represents hope and joy.
Western Australian artist Emma Lipscombe said her works focus on geometric shapes and colour.
"These paintings form part of my ongoing study of colour, pattern, space and scale," she said.
"Grouped and simplified shapes, repetition in pattern and simple forms all with varying colour exploration form the basis of my practice. Often harmonious outcomes though sometime not, it's a never ending ritual I'm happy to endure."
A previous exhibitor at Boom Gallery, Ellie Malin's works utilise layered fields of colour and bold geometries to capture her observations from life.
"Late 2021 we tentatively stepped out of a series of long confinements to our homes and into a new strange way of life where each day holds the chance to embrace all that we'd longed for," she said.
"With these artworks, I attempt to challenge my own assumptions of how colours functions within a composition and take chances by working with a prismatic palette. Shifting shapes of primary colours, intense glowing tones and pastel hues sit unabashedly in unison."
The final artist in the exhibition, Marnie Ross' work focuses on explorations of colour and texture.
The contrast between soft dusky tones and saturated bold colours are further enhanced by the variation in paint application with thin frosty glazes revealing the textured surface below.
In recent years she has been inspired by the unique landscape of Central Australia and its luminescent light patterns.
In her new body of work featured in Chroma the abstract landscapes have been reduced to minimal compositions, directing the focus to colour relationships and tones.