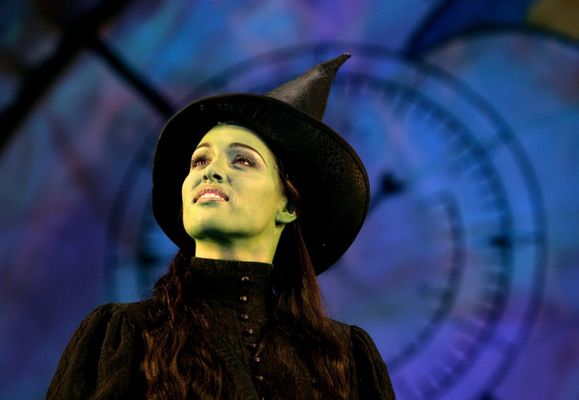 By Luke Voogt
Amanda Harrison has performed alongside Hugh Jackman and was the first Australian to play Elphaba in Wicked, but she's never done a solo show like this.
The Melbourne mother-of-two and actress will perform at Geelong Arts Centre in her new live-streamed show Up Close and Socially Distant next Friday.
"It's the first time I've done anything like it and it's going to be a bit of learning experience," she said.
"I did a cabaret show four or five years ago called Up Close and Reasonably Personal – so it's a play on that.
"People can look as close as they want through the camera but they will still be some distance away."
The lack of a live audience will be the biggest challenge for the long-time theatre actress.
"There'll be a few odd moments," Harrison said.
"The interaction between the audience and the performer is quite a special relationship.
"Usually, when you do a live show, people come along, see it and they're not allowed to take pictures.
"It's quite intimidating knowing it's going to be online – not forever – but for quite a while."
But Harrison has ad a bit of practice at live-streamed shows joining iconic entertainer Rhonda Burchmore and a host of Aussie actresses in Here's to the Ladies on Mother's Day.
"It was such a wonderful experience to be on stage with friends, even though we couldn't touch and hug each other," she said.
"We got lots of lovely feedback on social media.
"I was still nervous even though there was nobody watching [in-person]. It's like going on a morning TV show; when you know there's someone watching through the camera it's enough to make you a bit nervous."
Harrison said she was thrilled at the invite to perform in Geelong Arts Centre's new live-streaming series.
"It kind of just came out of the blue," she said.
"It's really nice to be thought of."
Before the pandemic hit, Harrison had lined up a bunch of cabaret concerts and was scheduled to go on a cruise last month.
Instead she and her husband – a backstage technician– have been supervising their children's home schooling.
"All his work was tossed away for this year, as was mine," she said.
"Losing that amount of work and that possible income was pretty devastating."
But Harrison said she was missing performing even more.
She said Up Close and Socially Distant will include hits she sung as Elphaba in the first Australian production of Wicked in 2008, as well as the hits of Judy Garland, Shirley Bassey, Queen and more.
"It's not you're classical musical theatre stuff, because I'm not your classical musical theatre player," she said.
"[Wicked] kind of put me on the map even though I had been working in overseas shows prior."
That career included acting as Hugh Jackman's love interest Betty in Sunset Boulevard – one of her first major gigs – in 1997.
"I got to kiss him eight times a week, so it's not a bad calling card," she said.
"He's very handsome, funny, considerate and charming."
Fast-forward 23 years and she is looking forward to returning to playing Angela Lane in Neighbours, with the iconic series set to resume filming under strict COVID-19 safety protocols.
"It's my first television job in Australia, if can you believe that," she said.