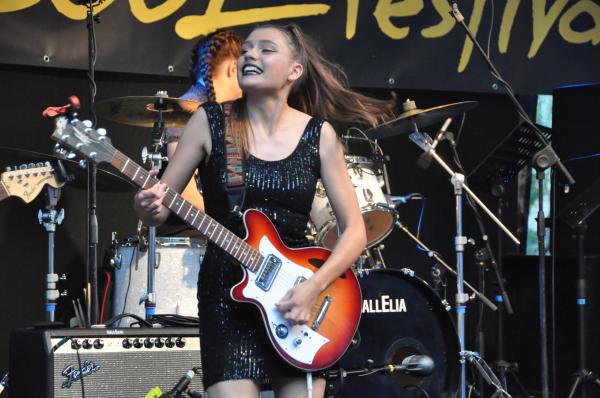 By Luke Voogt
ARTICLE WRITTEN PRIOR TO THE ANNOUNCEMENT OF VICTORIA'S SNAP LOCKDOWN. EVENT TO BE CANCELLED OR RESCHEDULED.
Geelong's sisters of soul, the Sweethearts, and big-time Aussie acts like Alex Lahey will take over CBD streets in a live music festival rolling into town later this month.
Sweetfest, running 10am to 6pm on May 30, features more than 20 local and Australian acts including ex-Jezabels singer Hayley Mary and Emma Donovan and The Putbacks.
"It's a fantastic mix of local and national artists, many of who I've played with or watched," said 17-year-old Sweethearts guitarist Sarah Hobbs.
"We're bringing all these women to Geelong and putting them on a stage in the same place."
Also on the line-up are Ebony and the Dilemmas, Fulton Street, Cry Baby, Sirens, Rach Brennan, Libby Steel, Ella Sweeney, Mink Mila, Kim Cooper, Lique, Andrea and Carly Robertson, Hassall, Operation Karma and Brunette Red Dress.
"They're all very talented and entertaining to watch," Hobbs said.
And, of course, Sweetfest would not be complete without the Sweethearts playing on the Little Malop Street main stage, along with their junior band Young Hearts.
Hobbs, who has played across Europe with the Sweethearts, said she and her bandmates were thrilled to get onstage in Geelong again after COVID-19 halted last year's Sweetfest.
"This festival is one of those ways to really say, 'live music is back'," she said.
"It's incredible – it's one of those things where you don't realise what you had until you've lost it.
"It might not be the biggest show we've played, but it's certainly the most special – we hold Sweetfest really close to our hearts."
The Sacred Heart College student grew up watching older sisters Emma, 21, and Rachael, 19, play bass and saxophone for the Sweethearts, while younger sister Laura, 15, now plays drums.
"I've been watching them perform since I was about seven," she said.
"The band blew me away with their stage presence. I remember thinking to myself, 'this is the band I want to be in'.
"Their guitarist Georgia Rodgers was phenomenal and she really inspired me – I wanted to have the opportunity to play alongside such incredible musicians."
But despite playing with so many other talented young women, Hobbs still gets her chance to stand out with the odd guitar solo.
"As a guitarist in a 30-piece band, you're often backing up everyone else," she said.
"But those solos give me a 30-second timeslot to tell a story, which is what music is to me. It's a chance to express who I am."
Hobbs draws inspiration from fellow "lefty" Jimi Hendrix, plays in another local band, Operation Karma, and dreams of a career in the music industry.
"If I can make my living off music, that would be mission accomplished for me," she said.
Sweetfest showcases the "strength and depth" of female musicians in Geelong and Melbourne across four stages in the CBD.
The free central Geelong festival has received funding from council through its arts and culture industry commissions.
"Through the joy of live music, this event will help draw visitors into central Geelong, creating a vibrant atmosphere and generating increased trade for CBD bars, restaurants and other venues," Geelong councillor Eddy Kontelj said.
Details: sweethearts.com.au/sweetmusicfest