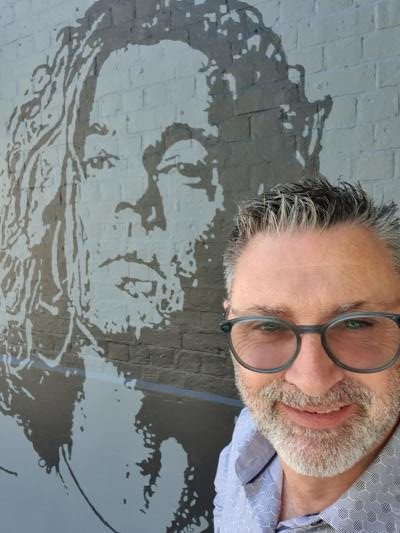 By Luke Voogt
"Burned out" after years driving road trains across Australia and running tours, Fyansford local Bruce Kirby leapt into art.
Then 52, Kirby had spent several years driving trucks and operating tours to the Great Ocean Road, the Grampians and Phillip Island.
"You're doing 16-hour days," the 60-year-old said.
"They're taxing jobs – I was pretty much burnt out from both of them."
Wanting a change but struggling to find a new path in life, Kirby thought back to his best subjects at school – art and sport.
"I was too old to make a living out of sport," he laughed.
So he began studying visual arts at The Gordon and within weeks decided, "this was what I was going to do".
Eight years later, Kirby opened a fine art gallery in central Geelong to showcase his work.
He said he had grown tired of paying up to 40 to 50 per cent in commission fees when he sold work on display at other galleries.
"I've learnt to live on just about nothing to do what I'm doing now. I'm lucky I've got a good gallery and my rent's reasonable."
He initially opened the gallery just one day before Victoria's second lockdown, which forced him to close it again.
"I was like, 'so that was a waste of money'," he said.
But last Monday, with restrictions easing amid a more positive outlook for Victoria, he reopened Bruce Kirby Fine Art Gallery.
"The time to open up is now," he said.
"I hope that people start coming back into Geelong and the waterfront."
His unique style was a few years in the making, he explained.
"I call it sophisticated scribbling and it's done with ink fineliner," he said.
"All I do is scribble but I've learnt to make an image from it. I'm the only one in Australia that does what I'm doing."
After a few years painting abstract pieces, Kirby decided to experiment with sketching using his photos as a starting point.
"I have a photography background," he said.
"The artwork evolves as you go."
When he sold two of his first pieces, a car and flamingo, for several thousand dollars each, he realised he could make a living off the style.
His work is a gradual process, given any mistake with the fineliner can be fatal for the piece.
"You've got to take your time and be patient – some of my drawings can take between 250 to 350 hours," he said.
Kirby is one of several artists with a studio in the old Fyansford Paper Mills basement – formerly a 1930s ice works.
Recently, he completed a visual arts degree and started painting portraits of celebrities to earn money on the side.
One patron bought his painting of David Bowie to send to their son living in Manhattan, he said.
That particular talent is on display on the outside walls of his gallery, with a mural of late INXS frontman Michael Hutchence and a soon-to-be-complete painting of the late Amy Winehouse.
"That's the first street art I've done," he said.
"Geelong's got some amazing murals and laneway art, so I'm pretty proud to be part of that."
Details: brucekirbyfineart.com