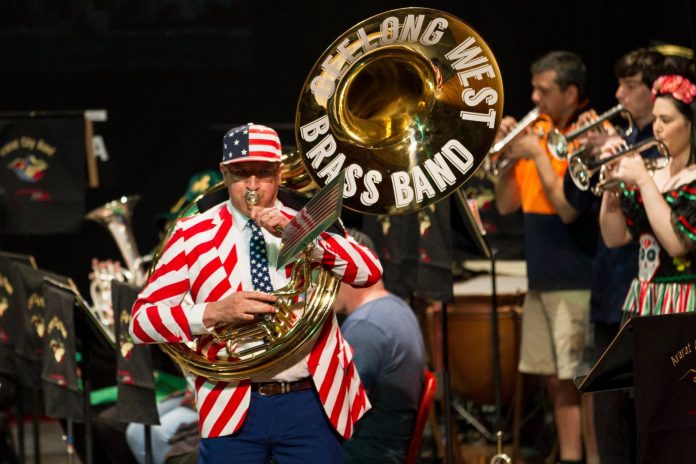 By Luke Voogt
Geelong West Brass Band comes to Club Italia for the first time in its 128-year history this month for an extravaganza of musical classics.
The band, which traces its origins to 1891, had never played the venue despite performing across Geelong for a century, according to musical director Jeff Steele.
"This is a first for us – we're pretty excited about it," he told the Indy this week.
"Hopefully we'll get some people singing and dancing in the crowd. They've got a beautiful wooden dance floor there."
The band was in "top form" after returning from the Australian National Band Championships in Queensland last month, Steele said.
They placed second out of 16 bands in the national competition's B grade, he said.
"That shows you the standard of the band."
Shandelle Cooke, a regular performer Geelong Cats games, Carols by Candlelight and Piano Bar, will join the band with her powerful voice for the first-time event.
"She's brilliant," Steele said.
"She's very enthusiastic and energetic – she gets the crowd up and singing. She might even do a few moves on stage, who knows!"
Together they will perform golden era classics like Sing, Sing, Sing, get stuck into Tina Turner's Proud Mary and Walk 500 Miles in the Proclaimers I'm Gonna Be.
The band will continue through the '80s with Queen, Bon Jovi and Whitney Houston, perform a '90s boy band medley and even play recent songs like Viva La Vida.
"It's pop stuff but in a big brass band arrangement," Steele said.
"It's all the great music you know and love. Who said brass bands were just marches and hymns?"
Club Italia was perfect for the band with regular venues South Barwon Civic Centre and Geelong West Town Hall unavailable, Steele said.
"We're trying to spread the musical love throughout the local community."
The band members loved to entertain and looked forward to getting on their feet during the Club Italia concert on 22 June, Steele said.
"We don't just sit down and play – the whole band gets up and entertains the crowd.
They also loved to dress up and had a few costume changes up their sleeves for the show, he said.
"I think last time I was Freddy Mercury playing trumpet. It was great fun."