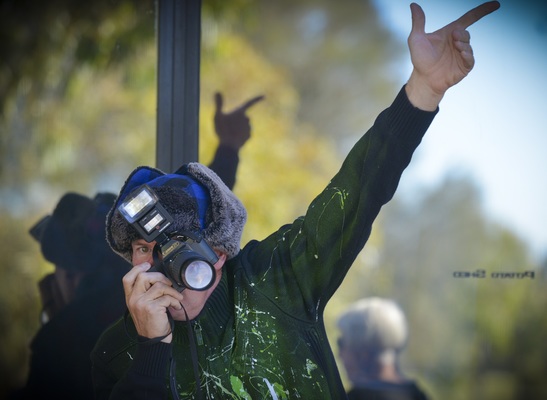 By Natalee Kerr
Anyone wanting to be a star will have their chance at an "exclusive one-off" show in Drysdale's Potato Shed tomorrow night.
Internationally acclaimed dancer Andy Howitt said his latest innovation, Captured – Art Installation, was all about turning the spectator into the art.
The Scottish-born artist has almost 40 years' experience in the dance world, but he said his new show was one of his "riskier" ideas for the stage.
"With normal shows the audience sits down, watches, claps and leaves," Howitt said.
"But I've always been intrigued by how you get people to understand dance more than just sitting and watching."
Howitt said his "off-kilter" production put "audience participation into theatre."
"Every time I perform, teach, or choreograph I'm always trying to capture the audience in some way.
"I came to a thought: what if the audience were the show and they were the ones that performed instead."
Howitt said the show cast the "audience as the movers" while he acted as the "outside eye".
"Dance is so powerful, it can change your way of thinking," he said.
"It's a bit of an experiment to see if you can get the audience to play along with the idea, but the unknown also excites me."
Howitt said he started dancing at the age of 15 after participating in a dance lesson at his youth club.
"After that experience I realised dance is what I wanted to do.
"I'd never danced before then but after that encounter dance became my life."
The Melbourne-based performer hoped his "interactive and educational" show could have a similar impact on others.
"I have this mindset of , 'What can we do in 40 minutes that could change someone's life?', like it did for me.
"I want to capture the audience's emotion and imagination, taking them out of their comfort zone and showing it's safe to be a bit crazy or different.
"I don't want to set it out too much. I'm open to going with the groups ideas and seeing where it can go."
Howitt will perform at the Potato Shed every 45 minutes from 5pm until 8pm on Saturday.
"I've always felt the Geelong community are open to new ideas and it's our job as artists to bring that to them," he said.
"Come and give it a go – you never know you might actually enjoy it."