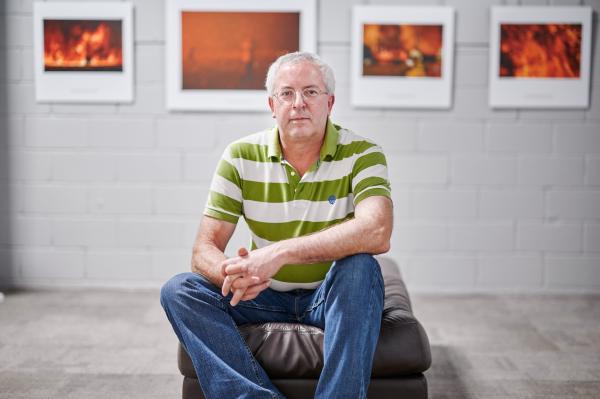 By Luke Voogt
Images that caught international attention and appeared on front pages across the world have taken pride of place in a new North Geelong exhibition.
The Nikon-Walkley Press Photography Exhibition opened at Focal Point Darkroom and Gallery last Friday, showcasing the best Australian news photography of 2020.
"Last year was such an incredible year," gallery owner Craig Watson told the Independent.
"Although it's a year we'd rather forget, it's provided us with some of the most powerful images that we've seen in a long time.
"The awards reflect that, being predominantly fires and COVID, and a bit of other stuff."
The exhibition features photos that shaped the global news narrative, such as Matthew Abbott's ionic shot of a kangaroo fleeing NSW bushfires in January 2020.
"It's a remarkable image, and technically it's a brilliant as well," Watson said.
"It's the epitome of the 'flying kangaroo', only in this case it's fleeing the flames. It absolutely captures the whole essence of the fires.
"They're all photos that caught worldwide attention. They're incredibly well-captured images of major global events."
The exhibition was a must-have for Watson when he opened the gallery in 2019 after more than three decades as a photojournalist.
"I started out at the Herald and Weekly Times in the darkroom," the 59-year-old Leopold local said.
After working for the Times he spent 25 years as a freelance photographer for motorsports and classic car magazines.
"I've always worked on the basis that if you don't ask, you don't get," he said.
"When we opened the gallery I thought it would be great if we could have the Walkleys, so I just rang them up.
"I said, 'what are the chances of getting the Walkleys down here?' They said they hadn't been down to Geelong before. But they make it really easy."
About 1000 people came through the gallery's first Walkley's exhibit in 2019, according to Watson.
"It looked like 2020 was going to be our year, then we closed in March," he said.
"[Reopening recently] was like starting again. We still get a lot of people come in saying, 'we didn't even know you were here'."
The gallery features a darkroom for photographers, young and old alike, who enjoy the craft of shooting on film and developing their shot traditionally.
"We get quite a number of young people come in who want to learn the old-school way of doing things," Watson said.
"It's a more tactile thing. You invest a lot of time into it."
For Watson little compares to the satisfaction of developing a great shot traditionally.
"You have to think a lot more carefully about your shot because you're not going to see it until you develop it," he said.
"It makes you think a lot about your photography and I think it actually makes for better photographers."
The gallery also plans to hold an exhibition later this year celebrating 110 years of Australia's involvement in the Antarctic.
"We've got photos going back to the first Australasian expedition in 1911, so that's going to be really cool – no pun intended," Watson said.
He urged locals to check out the Walkley's exhibition, which runs 10am-5pm, Wednesday to Sunday until May 30, but advised parental discretion for younger children.
"There are some pretty confronting images," he said.
"It's about getting people in to create and celebrate photography, and to be inspired with the exhibition."
Details: focalpointdarkroomgallery.com.au