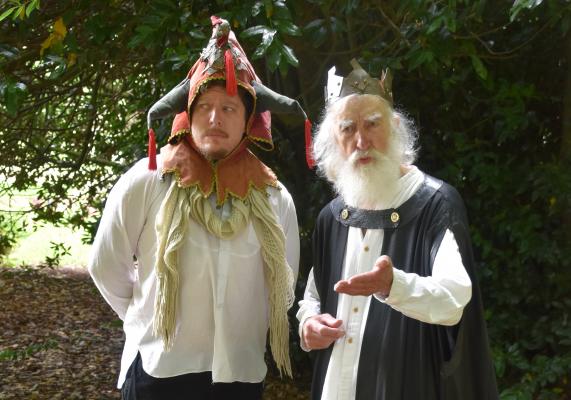 By Luke Voogt
Shakespearean plays outside during pandemics date back more than 400 years to – well, the Bard himself.
"In Shakespeare's time, when plagues existed in London, performances were banned," explained actor David Widdop, ahead of Ozacts' A Feast of Shakespeare at Geelong Botanic Gardens.
"We're kind of doing the same thing."
Plagues swept through London in 1563, 1568-69, 1582 and 1592-93 carried by fleas on the backs of rats.
During the plague of 1592-93, Shakespeare's heyday, the Crown ordered the complete closure of all London theatres.
The nobility fled London for the countryside and the Crown cancelled major events, much like today amid the COVID-19 pandemic.
"Half the companies would pack up and travel to the plague-free provinces, where they'd perform in market places, guild halls and the houses of the wealthy – anywhere they could find an opportunity," Widdop said.
"If it was raining, they might find a nearby barn instead of the village square.
"What they would have understood was the difference between country areas and London, where theatre was banned, and people would be close together and in danger of catching the plague."
More than four centuries later, Widdop is set to perform as six different characters from four different plays in two afternoon shows at Geelong Botanic Gardens next weekend.
"It's really challenging and exciting," he said.
"A lot of work is done by the change of costume, but then there's the change of accents, character, all that sort of thing. I love the challenge of playing different characters."
Widdop also changes his mannerisms as he moves from character to character.
"King Lear is quite old and getting towards the end of his life," he said.
"On the other hand, Prospero is a quite energised and active sort of character."
The long-time actor has played Shakespearean characters for a quarter of a century after graduating the National Institute of Dramatic Art in Sydney and teaching drama for decades at Federation University in Ballarat.
"Shakespeare holds a mirror up to human nature and gives the audience an experience of what it means to be human," he said.
Widdop and daughter Lisa came up with the concept of performing Shakespeare in the great outdoors in 1996.
"I've always been interested in outdoor drama and I'm keen a bushwalker," he said.
Ozact has toured Australia annually since its first performance of The Tempest at Port Campbell .
But the company's schedule grinded to a halt in 2020 amid COVID-19.
"Last year we had to cancel our whole autumn season," Widdop said.
"That's about half a year's work cut out because of the lockdown, but it feels a lot longer because time tends to go slower during a lockdown."
In December, Ozact returned to the stage for the first time since the pandemic hit, performing outdoors in Ballarat.
"It was terrific, the audience response was really, really good," Widdop said.
Like in Shakespeare's time, Widdop said, Ozact's modus operandi of outdoor theatre was safer amid COVID-19, with restrictions continuing to ease across Victoria.
He was thrilled to perform at Geelong Botanic Gardens in A Feast of Shakespeare next weekend.
The shows, beginning at 4pm on February 20 and 21, feature abridged versions of Shakespearean classics Hamlet, Pericles, King Lear and The Tempest.
"The Geelong Botanic Gardens is just a superb venue for performing," Widdop said.
"It's one of our favourites."
Details: ozact.com