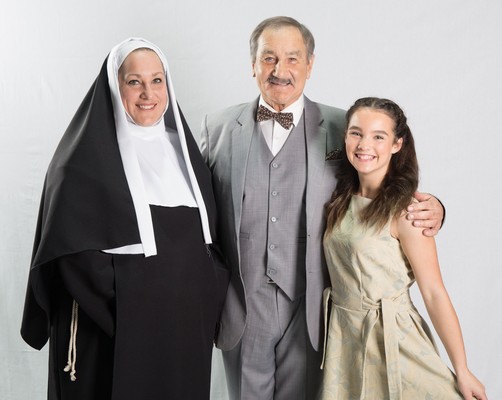 By Luke Voogt
Three generations of a Geelong family will appear onstage together for the first time this month in a local production of The Sound of Music.
Howard Dandy, 72, joins daughter Sarah Jeffreys and granddaughter Elyssa in a "special" play for the threatre veteran of 40 years.
"It's been lovely," he said.
"I consider it an honour and privilege every time I get on stage but as I'm sort of getting near the end I appreciate it even more."
Howard plays close friend to the von Trapps 'Uncle Max' in the show running at Geelong Performing Arts Centre from 19 July to 3 August.
Elyssa plays Louisa von Trapp while Sarah plays a nun. Howard has performed alongside Sarah and Elyssa separately but never with both at once.
His daughter and granddaughter developed a love of acting from watching him in other shows, he said.
"They saw how much I enjoyed it and they were drawn to it because they love to sing and dance."
The trio had little time to socialise during busy rehearsals, Howard said.
"But we're there when we need each other."
Making friends at rehearsals was the best part of for 40 years of theatre, Howard said.
"And after rehearsals you feel 20 years younger than you really are because casts are made up predominately of younger people."
He had continued to audition for plays despite his age, he said.
"They're going to darken up my hair and try to make me look a little bit younger. If one day they say I'm too old I won't be offended, I'll just go home."
Sarah returns after a long absence from the theatre, while her mother and aunt are making costumes for the show.
"I'm 42 now and my last production was when I was 16," she said.
"I guess I got back into it when my daughter's interest started at age 7."
Watching Howard when she was a child inspired Sarah to act.
"But now (I) realise how much preparation goes into (his performing)" she said.
"He's meticulous with his preparation and it's always very inspiring to see.
"Dad sees every show as possibly the last. If (so) it's a great way to share it together.
"I wouldn't say my talent level's the same as theirs, they have that on me. But I have the fun and the passion."
Elyssa, 12, also drew inspiration from granddad.
She first performed with her 'Papa' in a Geelong production of Annie at age 7 and was "excited" about the upcoming show.
"Every time he does a show a show he says it's going to be his last one and that it's special," she said.
"But he keeps doing them."