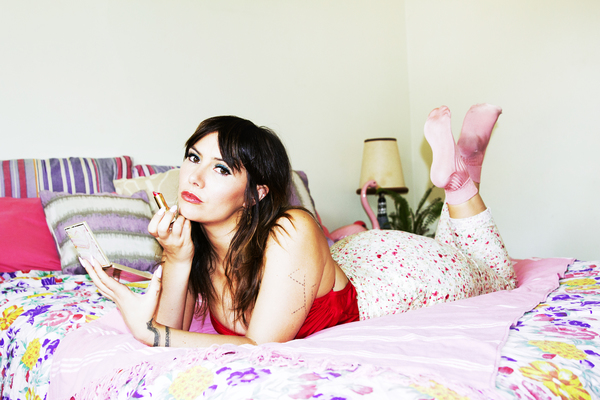 By Luke Voogt
Geelong locals will get a sneak peek at Ella Hooper's upcoming album when she comes to Spiegeltent on Sunday.
"I think I'll pop a few new ones in," she told the Indy on Tuesday, from her childhood home of Violet Town.
The woman best-known as lead singer of chart-topping Aussie rock band Killing Heidi was working on songs for another solo record, she revealed.
"It's either going to be a mini album or a plain old album."
She looked forward to again performing an intimate show in the mirrored tent, usually the domain of acrobats.
"I love it – it's so atmospheric," she said.
"I don't think they're going to give me any trapezes or circular stages to fall off though."
Hooper has had a busy year playing solo gigs between touring with a reunited Killing Heidi and fellow rock icons The Whitlams.
"I've been running around a lot at the moment," she said.
"This Spiegeltent show is in the middle of that tour."
Hooper loved "screeching over a rock band or playing with an acoustic guitar" equally, she said.
"I know it's a political answer but I really love doing both. If I do just the one I tend to get a bit sick of it."
Hooper and older brother Jesse started Killing Heidi in high school and the band skyrocketed to fame in 1999.
She began her solo career in 2012 with debut single Low High after the band went on a break in 2006.
Her solo music got "darker before it got lighter" following that track, she said.
"But it's much more upbeat over the last few releases."
This year she performed her bouncy new single Data Dust, about escaping social media and technology, at the finals to represent Australia at Eurovision.
"That was a very strange experience," she said. "We had so much fun."
Her current song writing felt more "adult" than playing with Killing Heidi, which reminded her "more how I felt when I was 16", she said.
"My solo music is still quite rocky but perhaps a bit more indie rocky. It's a bit more stripped back but it's still very catchy."
She enjoyed the intimacy of solo gigs where "anything goes", she said.
"I never know what I'm going to say or what's going to happen at a solo show.
"I can be a bit more spontaneous whereas in a Killing Heidi show I'm locked into to doing a lot of the same songs.
"I come off and I'm sweaty but I'm not drenched like I am after a KH show."
Hooper was keen to return to Geelong to play at the Spiegeltent.
"(Last time) I got such a good response and vibe," she said.
"I promise a pretty darn good show. I'm bringing two amazing musicians with me and this is the best (my solo music has) ever sounded."