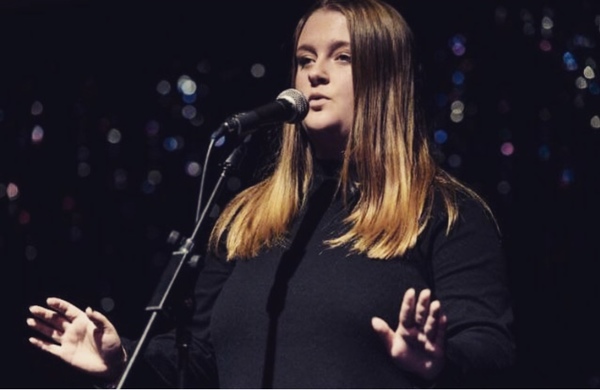 By Luke Voogt
Aspiring Armstrong Creek singer-songwriter Emily Cook knew she had to do "something special" with the money her late grandfather left her.
Her parents suggested buying a car or saving for a house, but the English-born teen decided to create a home recording studio instead.
"My dream is to be a singer," the 15-year-old said in her Lincolnshire accent, tempered by five years in Australia.
"I wouldn't say I'm a singer-songwriter, because I'm not, but it would be amazing to write my own songs. It means so much more to sing your own words."
Her parents helped with the studio and her dad built a desk for her equipment.
But part time work and school had kept her too busy to write many songs, she said.
"I've just got this book of words, basically. I've got to be realistic, so I'm putting my head down at school and getting stuff done so I can go to uni."
Emily has been honing her voice in the studio as she prepares for Geelong's Best Kid Busker this month.
She entered the all-ages version of the competition last year.
"I thought, 'why not just give it a shot'," she said.
"I really enjoyed the experience and it gave me so much confidence performing in front of people."
Now the year 9 student is taking on the junior comp, one of more than 100 activities happening in central Geelong during Storyfest.
"I can't wait to get up on stage," she said.
"The nerves haven't kicked in yet, which is great."
Emily has sung since she "was a baby" and first performed for a crowd at age nine.
She yearned to appear on Britain's Got Talent but her mum would only let her if she sang for school assembly.
"She was just kidding but I took it seriously," she said.
"That was in front of quite a few people – maybe a hundred or two hundred. I felt very empowered."
Emily did not make it past initial auditions for Britain's Got Talent afterwards, but continued to chase her dream.
She has a YouTube channel and has performed at venues around Geelong.
She battled nerves occasionally before a shows, she admitted.
"Everyone gets nervous and it's good because it means that you care."
She will add guitar to her act for the first time, after a few months learning the instrument, when she performs in the busker comp heats on 15 April.
"We're going to see how that goes," she said.
Storyfest has a bit of everything for local kids, including appearances by Cats ruckman Rhys Stanley and a huge range of children's activities.
See the full program at centralgeelong.com.au/storyfest.