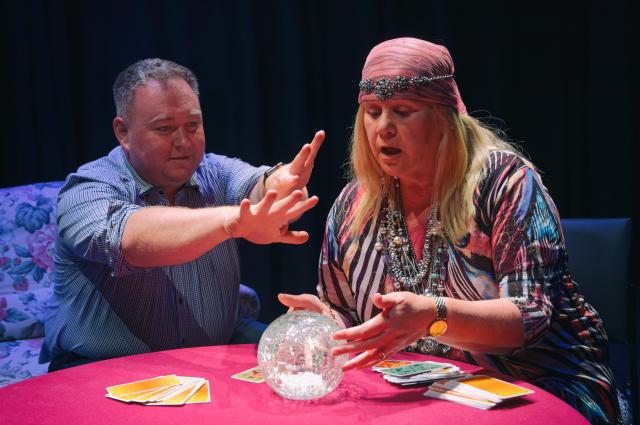 Ash Bolt
One of the biggest shows on the Potato Shed's calendar returns this weekend, when Theatre 3triple2 hosts its 12×12 show.
Held each year on December 12, the unique show showcases Geelong region actors and writers by putting together 12 plays each no longer than 12 minutes long.
Theatre 3triple2's Chris Reynolds said the group was excited to see the competition return after being forced to cancel last year.
"This is the tenth year we've run 12×12, although we weren't able to hold it last year because of COVID … and we're really excited to see it return," he said.
"It's one of our biggest events each year, along with the Winter Solstice, and before COVID for the previous seven or eight years we sold out.
"I'm extremely confident we'll do that again this year, even though we have an extra matinee show this year.
"When you've got 12 different plays, you hit most points of interest, so there's something for everyone – if you don't like comedies, there will be a drama in there for you."
Reynolds said this year's 12 plays were selected by the panel and the casts had been rehearsing for the past "six or seven weeks".
"It's always a difficult task to pick the plays … I've been really impressed by the plays that we had this year," he said.
"They're all very good – we wouldn't put a play on if it wasn't good enough – but there are a handful of plays in there that are just as good as anything you would find on Broadway or the West End.
"The quality of the writing has been particularly impressive."
The 12×12 show was the brainchild of a former 3triple2 committee member and provided the opportunity for Geelong creatives to showcase their talents.
"It came about because we were looking at how we could do things differently – one of the things is that we only do it on December 12, regardless of whether that's a Wednesday or Sunday like this year," Reynolds said.
"Really it is a celebration of Geelong – it's all about promoting the writers and actors and everyone else we have here.
"Most of the writers do it for fun and are not going to have their work shown anywhere else, so it is a great opportunity to see the talent and creativity we have locally.
"We're really strict on making sure we're supporting locals with 12×12 – we may open it up wider in the future, but at the moment it's about supporting people in Geelong, the Bellarine and the region."
Being a competition, attendees on Sunday will have the chance to vote for the most popular play, while a secret guest judge will also award the best written play.
The 12×12 show will be held at both 2pm and 7pm on Sunday at the Potato Shed in Drysdale.
Tickets: bit.ly/3pG0ptv.