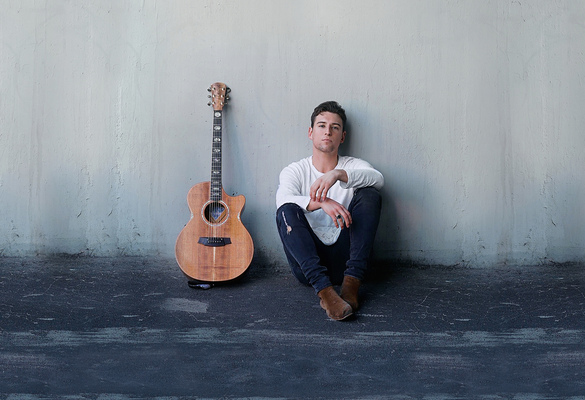 By Luke Voogt
This year "was meant to be the busiest" yet for Geelong born-and-bred singer and X Factor runner-up Taylor Henderson.
"I was ready to take on 2020," he told the Independent recently.
"I was four shows into the 40-plus that we had planned for the year.
"I always prefer to be busy, so I said to my manager just book as many shows [as possible]."
Then, just as he was celebrating his 27th birthday on March 23, the coronavirus pandemic hit.
"It was the day of 'iso'," he said.
"That day they all agreed by midday that the shops would close.
"Earlier that the day I called the family and said, 'do you want to get breakfast? Because I don't think we're going to see each other for a while'."
With live audiences banned for the foreseeable future, Henderson will take to the stage with dad Cameron for a live-streaming crowd instead next Friday.
"We might be in a time where we're physically isolated but it doesn't mean we have to be emotionally isolated," he said.
The father and son, who placed runner-up and third respectively when they competed together in Australia's Got Talent in 2010, will join forces in Geelong Arts Centre's new online series.
"We love an applause but that's not why we do it," the younger Henderson said.
"We sing because we want to tell a story or showcase what music does for us."
With an empty theatre, he and dad would just have to create the atmosphere themselves by applauding each other, or even joking around with some Bronx cheers or boos, he said.
"Dad and I are going to have a lot of banter and make sure we're bouncing off each other," he said.
"It's all live, real, authentic and fun. I hope the audience enjoy it as much as me and my old man are going to."
Henderson, who rose to fame with hits like Borrow My Heart and Already Gone, hoped to add some acoustic covers and his dad's songs to the show.
"I'm always saying, 'you've gotta play your songs more'," he said.
"I'm going to get him to play more of his songs because they've inspired me."
After only just moving out of home in Ceres last December, he said he was OK with the prospect of social distancing onstage with dad.
"I've lived with him for 26 years, I'm really glad we can be separated on stage," he laughed.
Henderson was using his downtime during the pandemic to become more acquainted with the piano rather than the guitar, his usual go-to instrument.
"That's kind of opened up a new realm for me for how I express myself and tell stories through my songs," he said.
He had also used his spare time to write and record new material, he said.
"You can either dwell on what's happening or make the best of it.
"I know what it's like to go a month without work. Then a gig comes along, and another, and then you're on tour and flat out.
"[The pandemic has taken] a toll on the whole world but I'm prepared for things like this because that's how my industry works."
He hoped to play a few songs that he had never performed for a live audience, in next Friday's show.
"I'm so excited about it because one thing I've been really missing is performing," he said.
Details: geelongartscentre.org.au