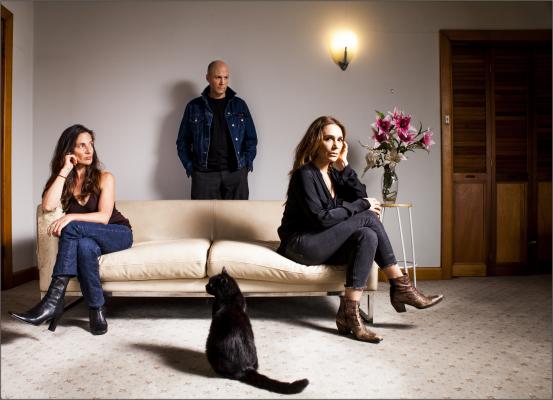 By Luke Voogt
After caring for her father for several months, long-time TV actress Tottie Goldsmith was honoured to throw herself into new Australian drama The Magnolia Tree.
"When I first got the script in October 2020, dad was in care," Goldsmith told the Independent from rehearsals at St Kilda's Alex Theatre last Friday.
"That's when I first read it and went, 'oh wow'. I said I would be honoured to do it.
"I've never done a play that's so layered, with so many twists and turns, these three characters are so manipulative."
The play tells the story of three siblings faced with the terrible decision of what to do with their mother, who has advanced Alzheimer's.
Goldsmith, the niece of Olivia Newton-John, faced a similar dilemma as a full-time carer for her father as his Parkinson's disease worsened leading to dementia.
"It made me so much more connected to the subject matter," she said.
"I had him with me for months. Being a full-time carer is all-consuming – you have to give up everything.
"It got to the point where my brothers and sisters said to me, 'you can't keep doing this Tot'.
"The day I put him into care I sobbed for two weeks – the guilt was unbearable – it was like I'd given up a child.
"My father passed away on Christmas Eve and he was in a very expensive home.
"I was very fortunate with my siblings – I've got eight – we all got on the same page. In this play, the siblings don't."
The siblings' dilemma is part of the thrill for the live audience, who get to choose the fate of the mother.
"We rehearse two endings," Goldsmith said.
Jack (Ezra Bix), will attempt to talk his sisters into letting their mother go.
"The brother is pushing to murder her," Goldsmith said.
The other sister Debbie (Rohana Hayes) argues to move her into an expensive home while Goldsmith's character Vicky argues for a cheaper alternative.
"Maybe my character could get over the line with the cheap home idea, but she doesn't, because she can't handle the guilt," Goldsmith said.
This leaves two options:
"We give her this concoction and let her drift away, or she lives and we spend this money on caring for her," Goldsmith said.
"Ezra has done the show a couple of times and reckons it's been about 50:50.
"It's hard to know which one to go with and who to trust.
"Often it's what we're not saying as characters, it's what we're thinking."
The play explores difficult questions with plenty of dark humour, according to Goldsmith.
"Is it fair to let these people drift away?" she said.
"Are they really alive inside and are they aware of what's going on?
"It's like all serious subjects; we need to have a laugh to cope with them.
"It's something that we're all dealing with, but the play is done with such integrity and it's wickedly funny."
Tottie has been wearing Vicky's shoes, literally, to get into character.
"Navigating a character who is so different to me is an amazing challenge," she said
"I've been finding the way she stands, the way she walks and the way she speaks.
"She's tough on the outside and I'm not. She's angry, bitter and longing for a better life.
"Whereas I'm living my better life and I'm not angry or bitter."
Goldsmith was thrilled to return to live theatre for a Victorian tour of The Magnolia Tree, which stops at the Potato Shed, Drysdale, at 8pm on May 14.
"I could not be happier – I feel quite at home," she said from rehearsals.
"We've spent long enough in our homes watching Netflix and now we need to get out and see real theatre."
Details: geelongaustralia.com.au/potatoshed