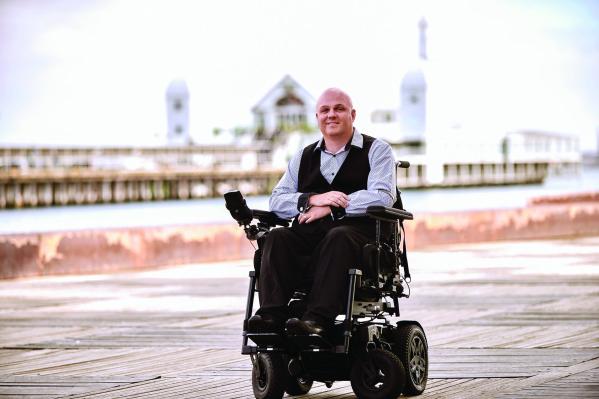 By Luke Voogt
After leading 30,000 voices singing in unison at the AFL Grand Final, Tim McCallum has capped off a big 2020 with a new Christmas album.
The former Geelong local released the record, Let Your Heart Be Light, after performing the national anthem for a television audience of 3.8 million.
"I think singing the national anthem at Australia's largest sporting event is definitely going to be a moment that's hard to top," he told the Independent.
"That's something that I've always wanted to do. It showed that people with disabilities can demand the centre stage, the prime-time TV slot, the big moment that stops the nation."
To secure the honour, the "long-suffering" St Kilda supporter launched a social media campaign that triggered a response from more than 100,000 people.
Now living in Queensland, McCallum was thrilled with the buzz in Brisbane for the grand final amid a crazy year for the AFL.
"It was great to see how Brisbane had really embraced the AFL throughout the season," he said.
"You started to see a lot of jumpers and scarves around town. People were talking about it on public transport and at work."
McCallum has performed the Australian and other national anthems more than 300 times, from one-day international cricket finals to the opening of a Canadian ice hockey rink in -15 degrees Celsius.
"So singing in the rain [at the grand final] was a walk in the park," he said.
The role was as much about leading the crowd as singing, McCallum said.
"You have to choose a key that most people can sing to. I hope my performance was something the crowd could rise and sing to."
He credited musical director Chong Lim for his "rousing and stirring" arrangement, and said the anthem's lyrics like "in joyful strains then let us sing" resonated especially strongly with Australians this year.
"We are straining and times are tough but let's celebrate the good things in life."
He hoped his new Christmas album would impart a similar message.
"All the songs are messages of love, joy and hope, and that's something we really need in this time," he said.
McCallum is a regular at dozens of Christmas carol events across Australia and he hoped his album could fill a void with COVID-19 hampering celebrations.
"Carols events are going to be done differently all over Australia and the world this year," he said.
The album also features non-carol classics such as Ave Maria and You'll Never Walk Alone.
"When I started looking at songs that I wanted to record, I thought they worked really well over Christmas," McCallum said.
The album is the latest step in McCallum's journey – that includes competing on The Voice in 2015 – after he hit his head on a sand bar and became a quadriplegic at age 18 in 1999.
The accident left him unable to control muscles around his diaphragm like most singers, he explained.
"It was pretty hard at age 18 to be told you could never sing again," he said.
But after regaining some use of his arms he taught himself a technique pushing down with his hands and regained his impressive voice.
"Over the last 20 years I've refined it," he said.
"Specialists and doctors are amazed at what I can do because they've never seen it before. Now I'm lucky to teach it to other people at the spinal unit in Brisbane."
The Independent is giving away 20 signed copies of Tim McCallum's new album Let Your Heart Be Light. Details: geelongindy.com.au/competitions