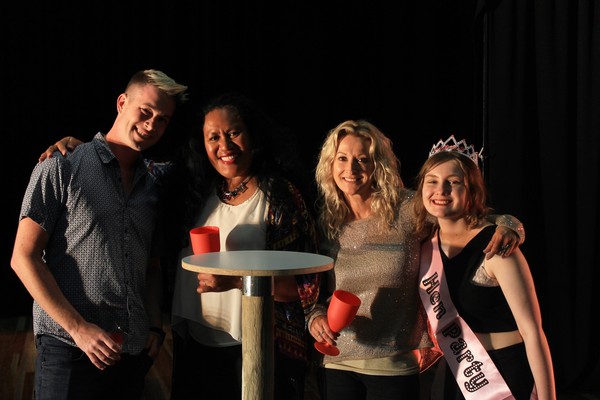 By Natalee Kerr
Local writers and performers are set to bring 12 original plays to the region for a one-night show this month.
Theatre 3tripple2's annual 12×12 competition is back for its eighth year at the Potato Shed on 12 December.
The show will feature 12 plays, with each play being 12 minutes long.
Theatre 3tripple2's president Kim Rochow said more than 40 actors from across Geelong and the Bellarine have been rehearsing for the plays since October.
"They've been loving it," she said.
"The build-up has been so exciting and we can't wait to soon showcase the local talent to the community."
Rochow said the audience can expect to experience a "rollercoaster" journey throughout the night.
"There's a mixed bag of genres, lots of laughs and thought-provoking plays," she said.
"Comedies, science fiction, drama, romance and mystery – there's a bit of everything for everyone.
"The great thing is if something is not your cup of tea, it only goes for 12 minutes."
The Grovedale resident is set to showcase two original comedies on the night, and is acting in one play.
"I hadn't acted for 30 years, but then that changed when I came along to Theatre 3tripple2 six years ago," she said.
"My confidence has grown massively since I started, and I've found abilities that I didn't know I had."
Rochow said she had "never" written anything prior to joining the local theatre company.
"Every year since I joined I've submitted plays," she said.
"There is just something so satisfying about seeing your work come to life on the stage."
She said this year's performances showcase all different acting abilities and ages.
"We have had people joining in this year that have never acted before," she said.
"It's great to see new people come along, get involved and put themselves out there."
Rochow said Theatre 3tripple2 received 20 submissions, with the committee narrowing it down to the top 12 earlier this year.
"A lot of the playwrights this year are new playwrights, so it's great for them to see their play feature on the big stage," she said.
Rochow said the audience will determine the "winning" play.
"They'll get the opportunity to vote for their favourite play with the winner announced on the night," she said.