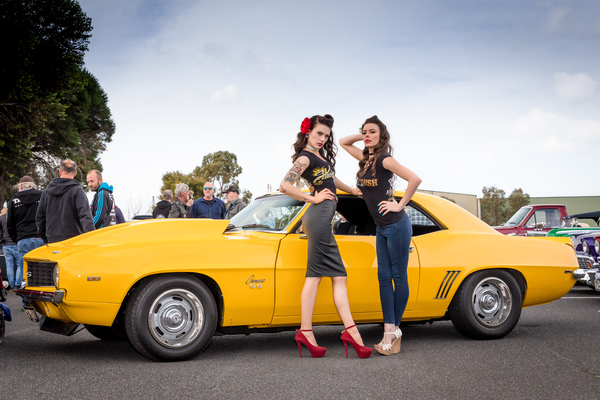 By Gill Cooper
Geelong will host a great line-up of artists this Sunday for the Rats Tatts n' PinUps event supporting Australian hot rod and rock 'n roll culture.
The travelling rockabilly circus combines a car and bike show, bands and food trucks for a massive party at the Gateway Hotel, Corio.
This family-friendly event runs all day from 11am to 5pm and gold coin donations are welcome.
This is the third year the Rats Tatts n' PinUps event has come to the Gateway, with the musical line-up this year including four great rockabilly and tribute bands.
Melbourne rockabillly group Wild Turkey kicks off proceedings, followed by Fandango (ZZ Top tribute), Miss Rosie and the Top Cats (Melbourne Rockabilly) and KISS THISS (Kiss tribute).
Among the performers is Caroline Springs vocalist Rosie Conforto and her new band the Top Cats – including Robbi Thompson on guitar, bass player Aaron Schembri and drummer Christian Nativo.
Conforto said the four friends, all from the western suburbs, formed the band 12 months ago and were looking forward to returning to Geelong, after performing locally at Easter.
"Geelong crowds are the best crowds. They are most appreciative and very responsive which makes my job so much easier," she said.
"They listen to you and get up and dance from the start – they really get into it which makes it great fun to perform."
Conforto said the mixed line-up of rockabilly and rock bands at the event would cater for every generation with hits from the 1950s-80s.
The 33-year-old said she "fell into rockabilly" performing backing vocals for Normie Rowe and Colleen Hewitt on the Go Show Gold several years ago.
Her voice was well matched to rockabilly music and her personal style of bright red hair fitted the scene, she said.
"Although I have no tatts at all – my nose ring is my token effort at being brave," she laughed.
Her band will perform two 45 minute sets featuring a mix of old school rock 'n roll from Elvis to Buddy Holly then thumping 80s rockabilly music.
"We take the classics like Kids in America and What's Up by 4 Non Blondes and give it a real rockabilly twist," she said.
"I love the new element with tribute bands – it appeals to a wider audience and introduces live music to more people at these events."