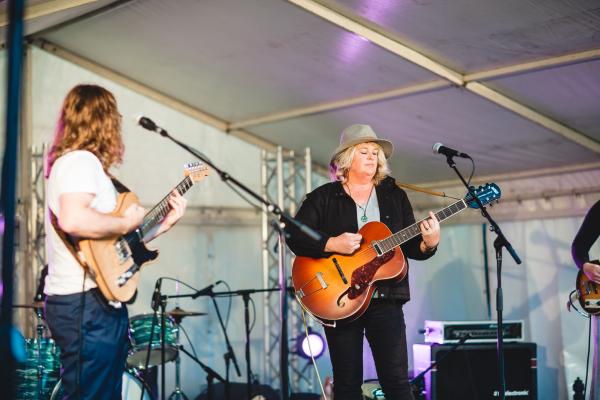 By Luke Voogt
Ocean Grove singer-songwriter Andrea Robertson knows all too well how quickly live gigs can disappear amid COVID-19.
Before the pandemic, Robertson had gigs lined up from the New South Wales Central Coast to Queensland beginning last May, which took "countless hours" to organise.
She had also planned to play at a bunch of festivals and other gigs in Geelong and Melbourne.
"It was all gone in an instant," she told the Independent.
"It's been a really tough time to be honest, but in the strangest of ways.
"And the lack of momentum, which has resulted in a real wrestle with motivation, has been the hardest part of it all for me."
But the pandemic and the heartbreak of losing those gigs ultimately cracked Robertson's "very long, dry song-writing spell".
She wrote a new single, Timely Reminder, as she waited to pick up her daughter from an appointment last June.
"I'd thrown in my travel guitar, song-writing book and a pencil at the last minute – just in case I got some inspiration," she said.
"Lucky I did, because Timely Reminder was the result.
"I remember feeling particularly determined to not let COVID influence my song-writing.
"With hindsight, that was kind of foolish, because everything in our lives was being dictated by the pandemic and it had to – and did – have an influence on me creatively.
"But the song can apply to any challenging circumstance in life, and I'd like to think people will relate to it for that reason."
Robertson is set to launch the single locally, backed by a full band, in a live concert outside the Potato Shed on March 20.
"I'm really excited about it – just having people there that enjoy live original music," she said.
"It will be a really good feeling to be doing that again.
"There will still be people that don't want to go into a confined space or an indoor area that's not well ventilated.
"So I think that's a brilliant move by the Potato Shed crew; to set [the outdoor stage] up."
She returned to the stage last December for a photo gallery opening and, later, some gigs at a Queenscliff bar that she admitted felt "surreal".
"It feels very temporary even in the middle of playing a gig – there's just been too much uncertainty around it all," she said.
"You're kind of aware that it could all change in an instant and be taken away.
"I remember that thought entering my mind as I was performing and I really had to push it away because I was enjoying playing again."
But with the pandemic easing, Robertson is "putting out the feelers again to line up a good string of gigs".
Along with the single, Robertson is launching a new video clip, which Geelong photographer Patrick Callow created to accompany the track.
Robertson received a Geelong council grant for local artists, which she put towards recording the song and the clip.
With three independent releases under her belt, she hopes to chase another grant to put out a new album.
"This single will form a part of that," she said.
"I have some different ideas for the next album, but I will just have to wait and see how that pans out.
"I'm not in any real hurry, but if I secure another grant to do a new album I'm ready to roll."
Details: geelongaustralia.com.au/potatoshed