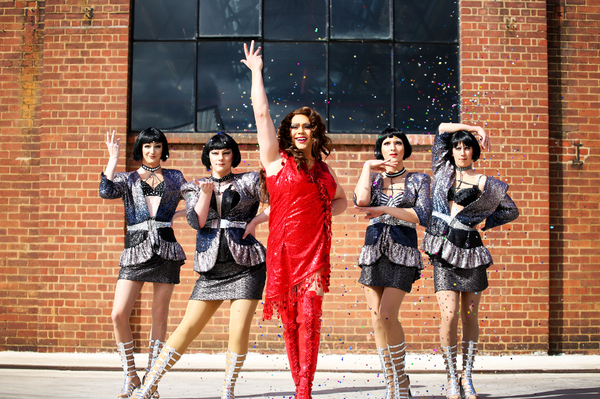 By Natalee Kerr
A local theatre group is set to showcase one of their "best" productions yet when they bring a popular film to life on stage next month.
Geelong Society of Operatic and Dramatic Arts (GSODA) returns with their latest production Kinky Boots – a true story inspired by a boy who inherited a shoe factory.
Central character Charlie forms an unlikely partnership with drag queen Lola in a bid to save the business, and in the process the pair realise they are not so different after all.
GSODA artistic advisor Debbie Fraser labelled Kinky Boots as one of the not-for-profit company's greatest shows "ever" done.
"I think this type of standard in production is a first for Geelong," the 63-year-old Newtown local said.
Fraser said GSODA looked to pursue the show after drawing inspiration from a Melbourne musical of the film.
"I spoke with the director of the show and I asked him, 'do you think this can be done by a non-professional company?' He said 'absolutely' and it took off from there," she said.
"It's not often you get the opportunity to do a show that has come off a professional run and is now in a local community."
Fraser said the cast of 32 "everyday people", aged 8 to 60, have been rehearsing three times a week since July.
"We have a number of fabulous Geelong actors in the show," she said.
"It's a very challenging show – to see the boys do drag queen roles is very impressive.
"Professional actors get paid for it, but these guys do nine-to-five jobs elsewhere and then step into these roles.
Twelve months since their last major production, Fraser said the shows themes of inclusion and acceptance are "very relevant" to today's society.
"It's about dealing with people being different, it teaches the lesson to be who you want to be and don't try to live up to other people's expectations," she said.
Fraser, who has been involved with GSODA for more than three decades said seeing a production develop over time was the most "rewarding" part of the job.
"The biggest thrill for me is seeing the show evolve and come to life," she said.
"I love seeing the audience sit there and take something in that is right in front of them."
Kinky Boots will head to Geelong Arts Centre's The Playhouse for six shows from 4 to 12 October.