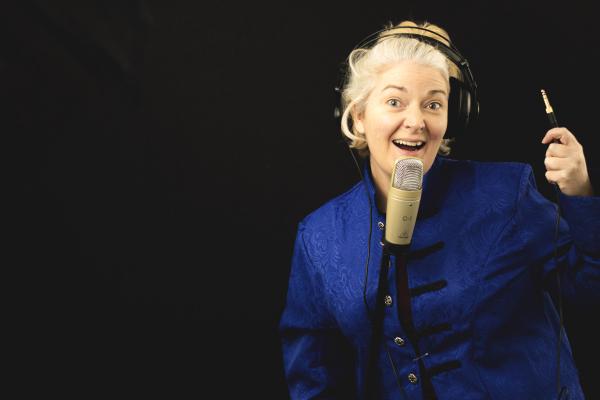 By Luke Voogt
A "grand adventure" to the other side of the world – and the galaxy – awaits in a new radio play series for locals stuck at home in lockdown.
Listeners of Theatia Podsie can descend down the rabbit hole, explore archaeological digs or fly around the world in the 13-play series from the comfort of their homes.
"That's the beauty of a radio play – you're not bound by geography," said director of four of the plays, Emma Watson.
"We go from outer space to fantasy to cursed relatives in France to around the Australian dinner table."
The sounds of bunnies hopping and Alice splashing in her own tears create a surreal world in listeners' minds for Watson's rendition of children's classic Alice in Wonderland.
"You can hear the door mouse fall asleep in his cup of tea, and the Mad Hatter getting so nervous he bites his tea cup in half," Watson said.
Trains click-clacking, boats chugging and foghorns blaring take listeners on an adventure Around the World in 80 Days, while next they plunge into darkness in vampire thriller Carmilla to the sound of bats, bells tolling and "slithering creatures".
In another four of the plays, writer Christine Davey pays tribute to a friend of hers and Watson's who was diagnosed with cancer last year, but has since recovered.
"When someone's unwell, you visit, bring them food or take them out for dinner," Watson said.
"With COVID-19 it's very difficult to do these things. Christine's an amazing writer, and she gave her the gift of these stories instead."
The plays tell of their friend's triumphs and struggles through anecdotes, like an uncle who takes out his glass eye to surprise his nephews and nieces.
"They're very funny and heart-warming," Watson said.
Watson and her fellow writers created Theatia Podsie with circumstances exactly like Victoria's latest snap lockdown in mind.
The project received a Geelong council grant last November for that very purpose, Watson explained.
"It was all around contingency plans and, 'what if this happens?'" she said.
"The whole premise of Theatia Podsie was it was theatre performed live with a live recording – like the 1940s talkies."
The audio format also had the added benefit of being more inclusive for actors who do not fit physical characteristics for certain roles onstage, Watson said.
"It just takes away all that prejudice for visuals."
The series features 28 actors, plus sound technicians and directors, with four actors per play.
"Most of these people have never done this sort of theatre before," Watson said.
Victoria's latest snap lockdown has forced organisers to cancel live audiences for the five recording sessions, initially scheduled to begin today, and refund tickets.
But organisers still plan to record the radio plays, dependent on Victoria's COVID-19 situation, in coming days or weeks.
"We're trying to hold onto [today] because we've booked Waurn Ponds Community Hall," Watson said.
"It's very big, so it's easy to socially-distance the cast.
"It's a wonderful creative venue and they lose revenue every time things shut down. The hall's committee use any profits to maintain the venue."
The four groups behind the audio theatre festival, Greater Geelong Creative Inc, Skin of Our Teeth Productions, Someone New Theatre Company and Wildmoth Sound Production, have various contingencies in place.
And Watson vowed to record the plays, even if restrictions force them to postpone the festival.
"It's all written, rehearsed and ready to go – now it's about following the COVID-19 instructions," she said.
"We're flexible, nimble and positive – we just keep doing."
Details: ggcreativeinc.com.au