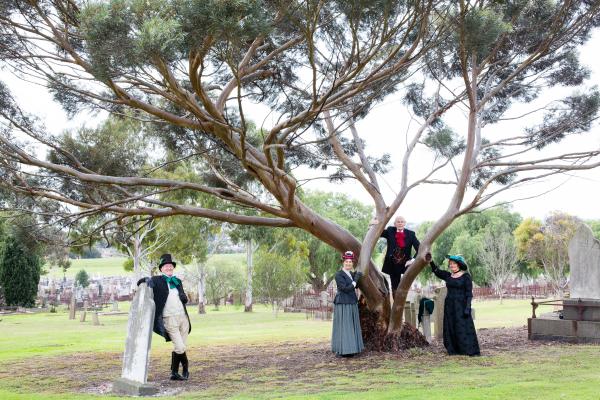 By Luke Voogt
The dead will rise again next February in a graveside tour bringing Geelong's pioneers, suffragettes and historical figures back to life.
Geelong's famous sons and daughters rested in peace during the pandemic, with restrictions causing the cancellation of the tours, Drop Of A Hat Production's Colin Mockett said.
"We had to cancel them at the beginning of the year."
But the theatre company had used that time to recruit more of their comrades from the ranks of the dead, he said.
"We walked around the cemetery and the people we discovered, and stories we discovered around them, are fascinating."
Among the new characters is Eliza, the tragic widow of John Batman, best-known for his role in the founding of Melbourne.
"She wound up working as a prostitute in Geelong West where she was murdered by a client," Mockett said.
"That's not the sort of thing you'd expect from the wife of the person credited as founding the whole region."
The tours will return for five consecutive weekends beginning February 27, with a historical figure leading visitors on a walk to meet Geelong Eastern Cemetery's other famous 'residents'.
"You've got a bunch of actors in the middle of gravediggers and administrators," Mockett said.
He and his thespian crew have been conducting the tours for decades, which they began after gaining a reputation for bringing back historical characters for festivals and other events.
"You can't afford to make any mistakes – you really have to do your research," he said.
"You need to read, not just the biographies, but what other people thought of them – the obituaries and the obituary response in the papers.
"From there you get a fairly good idea. Then you put yourself in the position of recreating the person and their character."
Mockett looked forward to playing one of his favourites, Charles Brownlow, the namesake of the AFL's iconic best and fairest medal.
"People expect him in football gear but [his main contribution was as a] watchmaker and silver smith who prevented the collapse of the then VFL," he said.
"If you want to see his work you don't go to Kardinia Park, you go to Geelong Gallery. The more I read about Charlie Brownlow, the more I find he was purely a gentleman."
The rules Brownlow set forth while helping to found a local rowing club give a clue to his character, according to Mockett.
"He wouldn't accept any bad language or poor behaviour, and he lived his life that way," he said.
"He once said he didn't need to advertise his store because people had heard of his reputation for honesty."
Eliza Batman (nee Callaghan) makes her appearance alongside philanthropist Elizabeth Austin and Geelong's first female mayor Zilla Crawcour on February 27.
Squatter Caroline Newcomb, medical pioneer Mary De Garis and novelist Ellen Davitt also join the all-women show.
Millionaires and millionairesses, inventors, actors, explorers, sporting champions and heiresses all come back to life in following weeks.
For details phone 5249 3939 or visit gct.net.au.