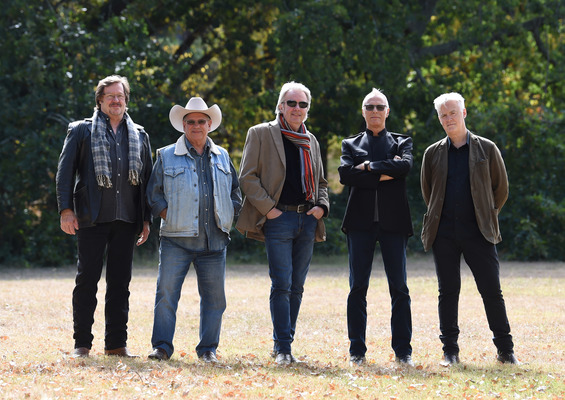 By Luke Voogt
Old-school Aussie country rock comes to Gateway Hotel next Friday as the reunited Stars return to Geelong after almost 40 years apart.
The band reunited after lead singer Mick Pealing met with fellow member Mal Eastwick at an induction into South Australia's country hall of fame in 2015.
"We got talking and realised it had been 40 years, and thought we should get the band back together," Pealing said.
What started as "a nostalgic thing" became a "full-blown" rebirth for the band when it released Boundary Rider in March, the 63-year-old said.
"We're actually into about nine or ten songs for our next album."
Despite decades between albums Stars had remained true to their original sound, Pealing said.
"It's almost like a bridge from then to now – the first song we wrote is Time Stands Still," he said.
The new song told of the band's journey from Adelaide to Melbourne and the death of band member Andy Durant from melanoma in 1980, Pealing explained.
Stars released their first album, Paradise, in 1975 and supported iconic acts like Little River Band.
Little River Band's Beeb Birtles gave Stars their big break, helping them sign with Mushroom Records and move to Melbourne.
The band went on to support Linda Ronstadt, Joe Cocker, The Beach Boys and Electric Light Orchestra (ELO).
ELO got caught using backing tapes, "a big no no" at the time, while The Beach Boys were playing bad due to infighting, Pealing said.
But the turmoil had unexpected benefits for Stars, he said.
"The press were basically saying get there early to see the support because they were the highlight."
But Stars split, with the band members going in separate musical "directions" and Andy Durant battling cancer, Pealing said.
"We were doing six, sometimes seven gigs a week and we just got tired of it in the long run."
The band briefly reunited for a concert tribute to Durant after his death, including Jimmy Barnes, Richard Clapton and Ian Moss, to raise money for Peter MacCallum Cancer Centre.
"It's a concert that still gets talked about," Pealing said.
"I've sort of kept myself busy with various bands over the years since then."
After reuniting the original band, Pealing signed up solo artist Nicholas Charles after seeing him play live at a Melbourne pub.
"I sort of made a mental note thinking, 'this guy's good, I'd like to do something with him down the track'," he said.
"He was a good country-blues picker and that's exactly what Andy was."
Together they wrote the bulk of Boundary Rider, Pealing said.
"That's probably the most exciting thing for me, just coming up with these songs and having a really good time playing them."
The band returns to Geelong with a mixture of old tunes and new songs.
"I reckon I've got more energy – I'm singing much better than I did when I was in my 20s," Pealing said.
"We're all in our 60s but the music keeps you young – doing what you love is what it's all about."