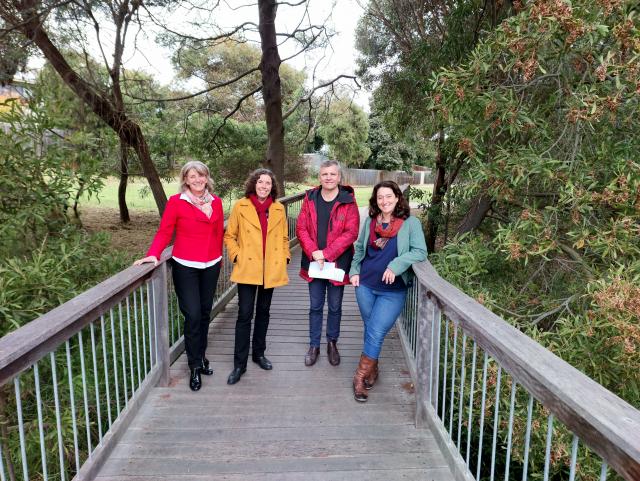 The Jan Juc Daylighting project stage 2 received a $700,000 state government investment from the 2022-23 Victorian Budget.
The project will clean up stormwater that flows into the creek from the surrounding urban areas before it flows out to the beach.
Member for South Barwon Darren Cheeseman made the announcement on Monday May 30 at Jan Juc Creek, at the site of Stage 1 of the Daylighting project, which has already been completed.
The works will involve removing an old, low-flow drainage pipe, as well as constructing a wetland and sediment basin that will improve water quality.
The project builds on previous work done by Surf Coast Shire to restore a 250 metre section of Jan Juc Creek, which included decommissioning and modifying the existing underground drainage, reshaping creek banks and revegetating the area with indigenous planting thousands of plants indigenous to the area.
The Jan Juc Daylighting project was identified through the Barwon Integrated Water Management (IWM) Forum and the Barwon Regional Partnership to support greater use of stormwater and improve waterway health in a way that creates economic, social and ecological benefits.
"Better managing stormwater flows into our waterways through an integrated water management approach is vital to preserve habitat for flora and fauna, as well as improving amenity for the local community," Minister for Water Lisa Neville said.
"This funding for the Jan Jac Creek Daylighting Project will continue the work to improve the overall health of this local waterway that locals and visitors love," Member for South Barwon Darren Cheeseman said.
The next round of IWM competitive funding is open until June 7. Grants are open to members of the regional IWM Forums.
Go to water.vic.gov.au/liveable/integrated-water-management-program/iwm-framework/iwm-grants for more information.