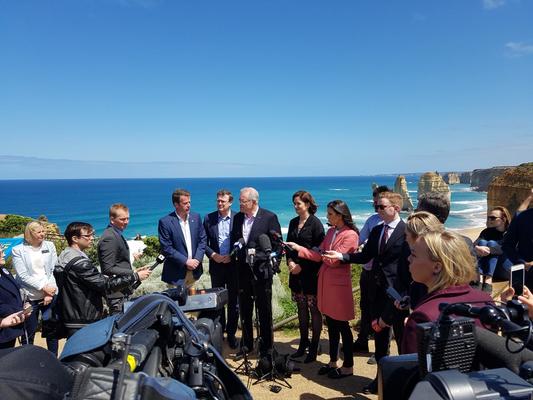 By Luke Voogt
Geelong's planned convention centre has received a $154 million federal boost, after Labor pledged virtually the same funding a month earlier.
Prime Minister Scott Morrison on Monday announced funding for a Geelong City Deal, guaranteeing bipartisan support.
"This deal will be a game-changer from Geelong all the way along the coast," Mr Morrison said.
"Our significant investments in Geelong infrastructure will mean more jobs and a better quality of life for hard-working families, giving local businesses a real boost."
The federal commitment comes after months of lobbying for the Commonwealth to match a $153 million pledge by State Government in May.
The pledge will fund a convention centre, a complete transformation of the Twelve Apostles precinct and Shipwreck Coast.
The funding would help Great Ocean Road towns make the most of six million visitors each year, Mr Morrison said.
"We don't want people just day-tripping from Melbourne, we want them staying the night at a local hotel, eating dinner at the local pub and buying coffee in the morning at a local cafe."
Corangamite MP Sarah Henderson said the City Deal included a feasibility study to link Skenes Creek via Lorne to the Surf Coast Walk.
"We recognise the need for world class tourism infrastructure to support one of Australia's most iconic tourist destinations."
But Corio MP Richard Marles slammed the government's delay, after Opposition Leader Bill Shorten already pledged $153 million for the City Deal last month.
"I'm glad that Labor's commitment to invest in our region, and the looming election, has reminded them we exist," the Labor MP said.
"But everyone knows they'll forget their promises to our community as soon as the votes are counted."
Libby Coker, Ms Henderson's opponent in the upcoming Federal Election, also criticised the delay.
"A government that was serious about making this deal happen would have done what we did and commit a month ago," the Labor candidate for Corangamite said.
Ms Coker accused the Commonwealth of springing the pledge on State Government as it entered caretaker mode for the Victorian Election.
"This delay means there is no deal with the State Government and no certainty any of these projects will happen," she said.
Mr Morrison's announcement comes nine months after then Prime Minister Malcolm Turnbull and then-acting Premier James Merlino signed a memorandum of understanding for the deal.
"The simple fact is we've seen this promise before," Ms Coker said.
"It's the same one the Liberals made last time, and they've done nothing."