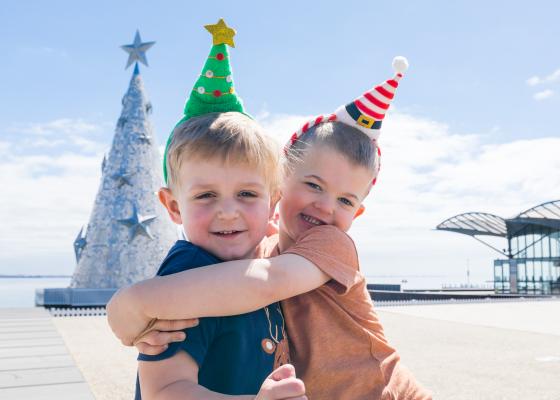 Ash Bolt
Bethany Community Support has banded together with Barwon Child, Youth and Family (BCYF) and the Sexual Assault and Family Violence (SAFV) Centre to launch the Geelong Giving Tree Appeal, ensuring families facing hardship won't have to go without this Christmas.
The not-for-profits are encouraging the community to raise funds and share joy with families who need support and kindness no more than ever following the impacts of the pandemic.
Funds raised will empower families and individuals nominated through local support agencies to purchase gifts and food by receiving a gift card.
Bethany Community Support has been leading the appeal for more than 20 years and last year joined with BCYF and the SAFV Centre for the first time to raise more than $67,000 for 2030 vulnerable families across Geelong and the south-west.
Bethany Community Support chief executive Grant Boyd said the appeal also supported people who have experienced trauma and helped them feel connected to the community.
"The Geelong Giving Tree Appeal is your opportunity to share the joy of giving with a family or individual in our community who have faced their most significant hardships this year," Mr
Boyd said.
"You're helping parents to buy their children the present at the top of their Christmas list, or giving someone the chance to buy a present for themselves that they wouldn't have otherwise afforded."
The SAFV Centre chief executive Helen Bolton said the Christmas could be an especially hard time of year for people who had experienced family violence.
"We are yet to see the full impact that the COVID-19 pandemic has had on the community but we do know that there has been a significant increase and exacerbation of family violence and sexual assault over the past 12 months," she said.
"For those impacted by violence, a sense of community, inclusion and belonging can make a big impact to their trauma.
"The Geelong Giving Tree Appeal is a fantastic way for the generous Geelong community to show their support and share the joy of giving this Christmas."
Donate to the Geelong Giving Tree Appeal until December 7 at geelonggivingtree.org.au.