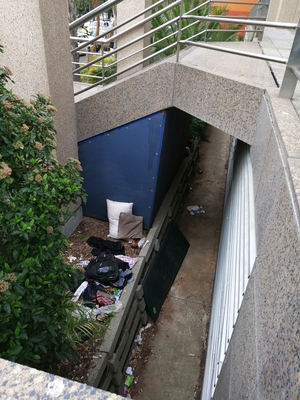 By Natalee Kerr
Geelong's council has blocked rough-sleepers from sheltering under City Hall offices as staff develop a housing policy for the homeless.
The contrast reflected a gulf between council "PR" and its indifference to the homeless, said veteran Geelong community advocate Guenter Sahr.
Up to five people a night, some with walking frames, were sheltering under a stairway to council offices in Brougham St until City Hall blocked their access about a month ago, Mr Sahr told the Indy.
"Such use by rough-sleepers was clearly considered offensive to some of the senior management, and the place was sealed off with steel plates," Mr Sahr said.
"It seems they found it undignifying to have clear evidence of the city's homelessness under their very stairs while going to work."
Mr Sahr said council apparently made no effort to support the rough-sleepers, who had since set up a new shelter behind a nearby property in Corio St.
"I'm not convinced that council staff bothered to deal with local support agencies to help these people find appropriate housing shelter before sealing off the area," he said.
Council blocked the rough-sleepers as it concluded the initial phase of developing a new municipal social housing policy.
Last year State Government awarded council $200,000 to draw up a social housing policy and plan, covering greater Geelong until 2036.
The policy aims to "increase the provision of high-quality, accessible social housing", according to City Hall.
Development of the policy included stakeholder meetings earlier this year and a community forum in June.
Mr Sahr attended the events on behalf of Northern Geelong Rental Housing Cooperative, where he worked for the past eight years before recently retiring.
The forum discussed suitable land for social housing projects but council lacked an "inclination to look at the root causes" of homelessness, he said.
"The thing that really irked me was how at one level council was talking the talk then at another level sealing up an area that rough-sleepers were using.
"If council is prepared to do stuff like that then how can we expect them to effectively combat the issue?
"The compassion that's required to have meaningful input in this area isn't evident."
Mr Sahr said he feared council would neglect the issue despite "a lot of people in Geelong doing it tough".
"There appears to be little interest from CoGG in pursuing something that is seen by many as beyond the remit of Local Government," he said.
"Without a councillor or someone with community stature, any social housing policy will simply be ticked off as having been talked about and a policy document created."
City Hall community life director Robyn Stevens said the engagement period specifically involved "providers of and users of social housing".
"Their feedback is informing the development of the draft plan which will be released later in 2019," she said.
"The purpose of the plan is to outline a way forward to address the social housing needs of our community."
Council did not respond to the Indy's questions about the sealing under the stairway.