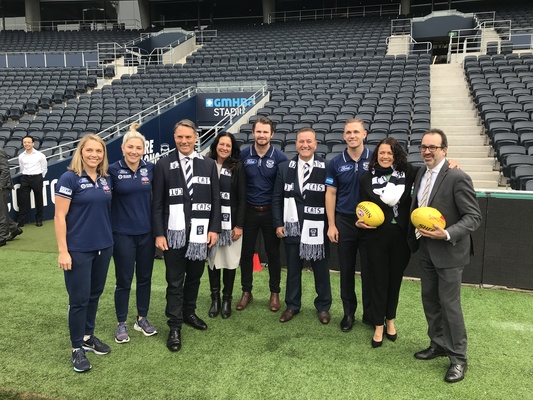 By Natalee Kerr
Geelong's Kardina Park is set to receive an extra $20 million if Labor wins this weekend's Federal Election.
Federal Labor announced the multi-million dollar investment for the final stage of GMHBA Stadium's redevelopment on Wednesday.
Corio MP Richard Marles said the completion of the project would make the facility the "best sporting stadium in regional Australia".
"This is the only ground within the AFL which is both a women's and a men's ground," he said.
"It will not only secure the base for Geelong Football Club but contribute great facilities to the community."
The pledge adds to the $102 million commitment from the Andrew's Labor Government last year, bringing the total cost for stage five to $122 million.
State and federal governments and other organisations have now contributed almost $300 million in redeveloping the stadium since 2003.
Key upgrades proposed for the final stage include a new entrance at the city end of the stadium, female change rooms and a museum-style centre.
Funding toward the sporting precinct faced criticism in the past with some believing it has failed to result in enough off-season events to Geelong.
The final stage is expected to increase the stadium's capacity to 40,000 and allow for a range of events at the venue such as Disney on Ice and international cricket.
Labor's Corangamite candidate Libby Coker said the announcement "delivers" for the community.
"This is about providing input into the economy, into jobs and into our social cohesion," she said.
"I am proud that Labor will provide the final piece to create a facility that the community can be proud of."
The redevelopment would "generate $122 million in economic activity locally", according to the federal opposition.
Infrastructure shadow minister Anthony Albanese said the "necessary" funding would "create jobs" for Geelong.
"It will not only create jobs in construction in the short-term, but it will create jobs in the long-term," he said.
Construction for the final stage is set to commence late next year.