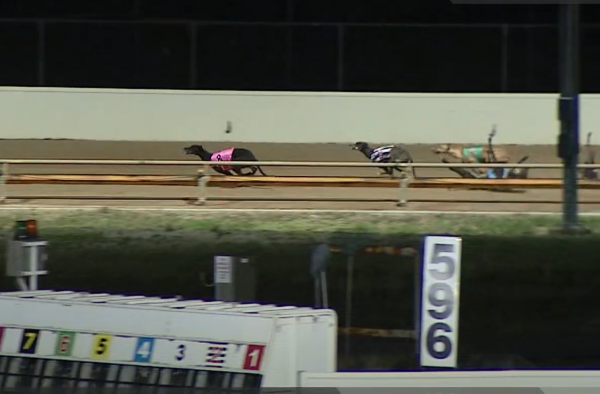 By Luke Voogt
Geelong has begun 2021 by recording the first greyhound death on an Australian track for the year, according to the Coalition for the Protection of Greyhounds.
An on-track vet euthanised Zed Bale after he sustained a broken leg during race seven at Geelong's greyhound racing track on New Year's Day.
According to the steward's report Zed Bale collided four times with other greyhounds and fell at the first turn.
He suffered a fractured humerus bone in his foreleg before the vet euthanised him.
Three other greyhounds sustained injuries in the race.
Zed Bale's death follows that of Mepunga Force, which was put down on Boxing Day 2020 after sustaining a similar leg injury in Geelong.
In 2020, six greyhounds were euthanised on the Geelong track in 99 race meetings.
Stewards recorded 250 injuries at the track, including 47 major injuries, according to the Coalition for the Protection of Greyhounds.
In total 72 greyhounds died on Victorian tracks in 2020, with 204 in Australia.
Geelong ranked the sixth-deadliest Victorian track last year, according to the coalition.
The coalition's president Dennis Anderson said the Geelong track "typified" the dangers that racing greyhounds faced in 2020.
"The death of Zed Bale highlights the real problems of greyhound racing: curved tracks and greyhounds with broken legs being euthanised at the track.
"We're going to see a lot more of this in 2021.The only way to end greyhound suffering is to ban greyhound racing.
"But until that happens, the industry must reduce on-track deaths and injuries by implementing safer tracks with an emphasis on straight tracks and six-dog races, as the industry's own research recommends."
Greyhound Racing Victoria (GRV) has previously told the Independent that it has a long-term strategy in collaboration with the University of Technology Sydney to develop safer racing.
GRV was using this approach to rebuild tracks across Victoria, a spokesperson said last year.
Racing has undergone massive reform over the past five years in terms of dog welfare and GRV has introduced new initiatives to support seriously-injured greyhounds, according to the organisation.
GRV did not respond to the Independent's requests for comment this week.